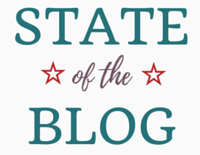 Yea, yea, the usual drivel about how fast the year is going. Let's just get to the numbers!
The basics
Books read since January 1: 26
Pages read: 8,842
Books reviewed: 16
Books not enjoyed: 6
Books not finished: 0
Library books: 14
Ebooks: 3
Audiobooks: 5
Genre breakdown
Fiction: 14
Non-fiction: 11
Fantasy: 5
History: 9
Memoir: 2
Mystery/Thriller: 10
Paranormal/Supernatural: 4
Young adult literature: 1
Children's literature: 2
Reading challenges
Charity Reading Challenge: 26
The Mount TBR Reading Challenge: 3 of 6
Monthly Motif Challenge: 6 of 12
Kickin' ass and taking names! Check out my reading challenge progress.
Some thoughts
I'm at about the same place with my reading now as I was at this time last year. I was feeling like I'd fallen behind, so it's nice to look at the numbers and realize I'm keeping pace with myself from year to year.
I'm doing better with my reading challenges than in previous years. I think I found a handful that are the most fun for (and valuable to) me.
Looking ahead
I'm also really enjoying stretching my creative writing muscles with writing prompts. Going to keep this up in the second half of the year.
My book-buying ban continues, but I've amassed some gift cards that are begging to be used. Time to stock up on psychology texts and other books I can't find at the library!
How's your reading going this year?