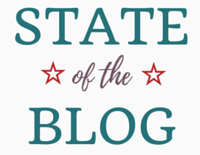 How time does fly! I can't believe it's already time for another State of the Blog update.
Despite being stressed at work and dealing with some sickness and travel, it's been a really good three months: I read more books this quarter (but somehow fewer pages), and even better, I enjoyed more books. Which is every reader's ultimate goal.
Okay, let's cut the chit-chat. On to the stats!
First, the basics
Books read since April 1 – 26
Pages read – 7,694
Books reviewed – 22
Books not enjoyed – 3
Library books – 10
Ebooks – 1
Genre breakdown
Fiction – 20
Non-fiction – 6
YA – 8
Graphic Novel – 2
Classic – 1
Period Novel – 1
Religious/Spiritual – 2
Adventure – 4
Children's Literature – 1
Mystery/Thriller – 4
Paranormal/Supernatural – 5
History – 1
Reading Challenges
Some thoughts
I finally bit the bullet and got a library card from the big city nearest me. I have to drive much farther to one of those branches than to my city's library, but the selection is so much bigger and broader. I've saved myself a lot of money by paying for an out-of-county library card and borrowing two or three new books every two weeks or so.
In mid-June I said goodbye to the Notable Quotables meme and hello to Musing Mondays. It's nice to switch things up.
I recently pondered my obsessive need to apologize, and asked readers to chime in with their thoughts.
I got way too into Picture the Dead and Miss Peregrine's Home for Peculiar Children. Is anyone else getting into the "scrapbook novel" genre?
Looking ahead
Lots of good stuff coming up here at Bookzilla. I was buried in a veritable avalanche of bookish birthday presents, and now my biggest difficulty is choosing which to read next! Overall, though, stay tuned for some tough ladies, two teenaged boys who meet two teenaged girls, a smattering of non-fiction, and a zombie who wants the one thing he can't have.
How's your summer reading going? Picked up any new memes recently? Anyone else have to resort to extensive travel to get their reading fix?