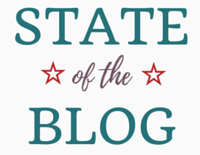 As the end of my second year of blogging draws to a close, it's time to look back and see what I've accomplished. There were some great books and some total duds, but overall I think this year went even better than last. Let's crunch some numbers!
First, the basics
Books read in 2011 – 96 (21 since 9/1)
Pages read – 31,505 (6,715 since 9/1)
Books reviewed – 77 (18 since 9/1)
Books not enjoyed – 23 (5 since 9/1)
Library books – 25 (8 since 9/1)
Re-reads – 2 (0 since 9/1)
Genre breakdown (since September 1)
Fiction – 16
Non-fiction – 5
YA – 3
Period piece – 6
Mystery/Thriller – 7
Paranormal/Supernatural – 3
History – 1
Fantasy – 3
Gender Studies – 2
Reading challenges
Gothic Reading Challenge final tally: 7/10
Some thoughts
I didn't quite complete the Gothic Reading Challenge, which kind of makes me sad. But for a first challenge, I think I did well.
My second year of Non-Fiction November has cemented my love of it. Expect this to come around every year (and feel free to join in!).
Looking ahead
I got an embarrassingly large pile of books for Christmas; I've got plenty to read and review now!
I read a lot of contemporary authors, so in 2012 I'll be participating in the Back to the Classics Challenge. Looking forward to digging into some older stories!
Small Review and Ruby's Reads are hosting a series for new and established bloggers: Busting the Newbie Blues/Busting the Big Blogger Blues. I'm always interested in learning new ways to blog better, so maybe this will be just the ticket.
How did your 2011 reading turn out? What are you most looking forward to in the new year?
Previous States of the Blog
*Just a quick note that I am out of town from 12/29 – 1/1/2012. Posts should be going up automatically, but I'll be slow on responding to comments until I get back. Thanks for your patience, and Happy New Year!*