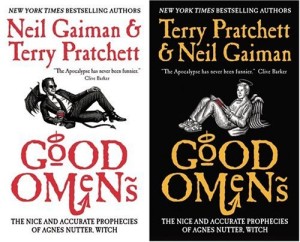 Crowley loves fast living, being right, and his 1926 black Bentley. Crowley is also a demon. He is on speaking terms with Aziraphale — which is odd, considering that Aziraphale is an angel. Both have been on Earth since…well, the beginning, on special assignments from their Bosses: cause trouble for the other side. One cannot live on a planet for six millennia without gaining some appreciation for it, however, and neither celestial is particularly keen on returning to home base when things are really so much more fun on Earth.
So the two have worked out an Arrangement: each will go about the business of tempting or saving people, but they'll make sure to keep it balanced. This ensures that neither side will truly ever be able to declare victory — and the two friends can remain happily on Earth.
There's just one problem: the Apocalypse is coming, and fast; Crowley has been given orders to deliver the Antichrist to the local Satanist convent. He rather unwillingly does so, but a bit of human error sets in motion the strange events of the next eleven years.
Meanwhile, a girl named Anathema Device has grown up reading the prophecies of her ancestress, Agnes Nutter. Poor Agnes made a terrible prophetess, as all of her predictions have come true. And now the end of the world draws near, and the Four Horsemen ride again.
Amazing storytelling
There are certain creative types who enjoy taking the world and tilting it to the side ever so slightly. Often they do so sneakily, and suddenly the audience is viewing the same story from a totally different perspective. Gaiman and Pratchett have cracked this formula, and the little book they never thought would be published is now a cult classic.
Good Omens shows what would happen if two celestial beings ceased to really do their assigned jobs, and instead went about enjoying the comforts of Earth. Aziraphale has become an avid book collector, and Crowley seems content to zoom around in his Bentley causing minor mischief while staying off Hell's radar. But these two are not lazy in their appreciation for Earth: they love it so much, in fact, that the entire story is about their preventing its predestined end.
The Four Horsemen of the Apocalypse have also been tweaked. War goes by the particularly fiery—and female—name of Scarlett; Famine is a best-selling diet book author; Pollution (who replaced Pestilence after the advent of antibiotics) litters the ground with dripping oil and trash; and Death is…well, he's not the chatty type. Befitting their presence in the 20th century, they have foregone horses in favor of motorcycles, and leave a trail of destruction in their wake as they make a beeline toward the least likely place for the Apocalypse.
This book is a great combination of funny and thought provoking. Crowley and Aziraphale spend much of their time trying to decide whether or not their meddling in the Great Plan is meddling, or part of said plan. It's a really good book, and several times I got ahead of myself: I'd be reading the next page before I realized I hadn't stopped to think about what was discussed on the previous one.
My new favorite character
To me the most intriguing character in Good Omens is Adam Young. It's a marvelous thought, really: if the Antichrist came to Earth, and was left to his own devices—with no influence from Heaven or Hell—how would he turn out?
Apparently, pretty well. Despite being the earthly incarnation of pure evil, Adam is capable of extreme…love. He loves Tadfield, his home, so much that his power has manifested in a way to prevent certain changes from occurring — such as the addition of a major highway, or the introduction of any real problems into the town. Tadfield is as idyllic and picturesque as Adam's mind can make it.
Just read it
If you're interested in a great and twisting plot, strangely intriguing commentary on Heaven's ineffable plan, and snorting soda/coffee/water through your nose while chortling helplessly, you should definitely pick up a copy of Good Omens.
Don't think it's all easy, though: these guys are terribly fond of sneaking in tiny details that seem insignificant in the moment, but several chapters later you find yourself going back and re-reading passages because suddenly it all makes sense.
It's a massive—and hysterical—game of connect the dots. I'd suggest having a pen and paper nearby: the cup and ball game doesn't necessarily make sense the first time around.