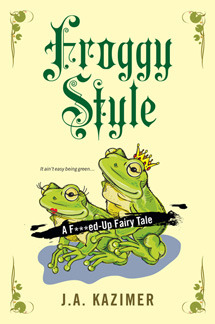 Jean-Michel La Grenouille is handsome, disgustingly rich, and an actual hand-to-god prince, but he's got a dirty little secret: he spent the first few years of his life as a frog. It was only a chance meeting with a hungry little girl that released him from his slimy prison.
If Jean-Michael wants to keep his handsome human form (and his money and title), he needs to find that girl — The One — and marry her before he turns 30…in just 10 days. Trouble is, the girl he's pretty sure is The One has a touch of narcolepsy, and seems so much less interesting than Lollie Bliss, a tattooed, smokin' hot biker who may be dating a hit man.
Will this prince-less-than-charming find his happily ever after, or will he be doomed to life among the lily pads?
Not as exciting as I'd hoped
I thought with a name like Froggy Style: A F***ed Up Fairy Tale, this book would be a little more…well, f***ed up. There were lots of fairy tale creatures and people, but there wasn't much else to it.
The story was basically your standard fairy tale — not a bad thing on its own, but I thought the point of Kazimer's novel was to turn that stuff on its head, and make it different and cool. But Froggy Style wasn't any of those things. I didn't really care about any of the characters, and the "twist" was anything but.
By far the biggest flaw was the ending: the deus ex machina is my biggest literary pet peeve, and this one flew in on a flaming chariot with guns blazing. It didn't even make a whole lot of sense.
Kazimer's book is part of a series (the second, but it read fine as a standalone), but not one that I think I'll continue. Oh well. Next!