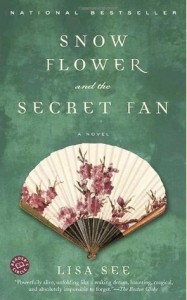 19th century China was not an easy place and time for women. They were useless to their parents, and could only become worthy by bearing sons for their husbands. Most of a woman's life was spent above-stairs in her family or in-laws' home, sewing and talking with the other women of the household.
Some girls were lucky enough to be matched with a laotong, or "old same," another girl their age with whom they exchanged letters—written in nu shu, or "women's writing"—painted on fans and messages embroidered on handkerchiefs. Laotong formed a lifelong pair that in some ways was considered more important than their relationship with their spouses.
Snow Flower and the Secret Fan is about such a pair. Lily and Snow Flower become laotong at just seven years of age, and over the next 20 years experience foot binding, marriage, the births of their children, and the ravages of war — together. But any relationship can only withstand so many lies and hurt feelings, and soon one laotong makes a mistake she will always regret.
Amazing
Lisa See's novel is beautiful and painful, often at the same time. The story is multi-layered, full of details that may seem meaningless at one point but come come rushing to the forefront at just the right time. The characters—especially Lily, who narrates the story—are complex and brave and flawed, and jump right off the page.
The historical aspects are fascinating as well. Both nu shu and laotong are real, and it was amazing to read about the relationships that were formed around these concepts. The foot binding process is also described in great detail — horrifying, but a subject about which I knew little and therefore found interesting.
Spoiler alert!
I've read a couple reviews on different blogs that complain about the novel's ending. The Blue Bookcase "finished it feeling very unsatisfied, even cheated," and I've seen some other comments to that effect. After finishing the book myself, though, I have to disagree.
Snow Flower and the Secret Fan could not have ended any other way than it did; Lily is a wonderful character, but her unforgiving and spiteful nature would never have let Snow Flower's perceived betrayal go un-vindicated. Fortunately Lily is smart and loving enough to return to Snow Flower's side when her old same needs her, and cares enough about her friend to spend the rest of her life trying to atone for her mistakes.
I can't say that I'm pleased with the ending itself—it's not in my nature to be satisfied by sadness—but I know it was the correct, logical ending. If I have to read a sad ending, it at least needs to make sense for it to be so. See's novel manages it, so I can't complain.
Thoughts on relationships
This novel spotlights many different kinds of relationships: mother-daughter, wife-husband, daughter-mother-in-law, etc. I'm glad that See was able to show both the tensions and joys of each type — a mother deceives her daughter, but for her advancement; a mother-in-law scolds her son's wife for being disobedient, but then teaches her to "Obey, obey, obey, then do what you want."
But of course the main focus is on Lily and Snow Flower and their laotong relationship. Ruled (and stifled) first by their families, then by their husbands' families, and always by tradition, it was a privilege for me to see how they opened up to each other about their lives, and how strong their relationship truly becomes.
This book put me in a thinking mood, so I've spent the last day or so pondering philosophical questions about relationships, and how they've changed over the centuries. The Internet has allowed us to connect with more people than ever, but how connected are we really?
Both men and women need friends with whom they can communicate openly, but in a different way than they would with their spouse. It's a fine line, but an important one. Relationships, especially those between same-gender friends, are critical, and not having them does leave a hole in one's life.
It's easier to have old sames in high school and college, communities that are similar in many ways to the villages in which Lily and Snow Flower grow up. I live with my Best Friend and have become a part of his family, but I miss the conversations and feelings that only happen when you're with a close female friend.
Bottom line
To make a long story short (too late!), I think you should give Snow Flower and the Secret Fan a try. Stop worrying about disliking the end and immerse yourself in See's fabulous writing and you can't go wrong.