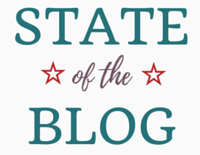 Normally these nerdy numbers updates happen every three months; unfortunately in March I totally spaced, so this State of the Blog is for all my reading since the start of the year. Dig in!
The basics
Books read since January 1: 30
Pages read: 10,238
Books reviewed: 28
Books not enjoyed: 3
Books not finished: 3
Library books: 5
Audio books: 1
Re-reads: 1
Genre breakdown
Fiction: 17
Non-fiction: 13
Fantasy: 8
History: 10
Memoir: 1
Mystery/Thriller: 7
Paranormal/supernatural: 5
Young adult literature: 4
Gender: 2
Reading challenges
The Mount TBR Challenge: 4/12
Reading Outside the Box: 2/4
I'm not as far along as I'd hoped I'd be halfway through the year, but so far so good. Check out books and reviews here.
Some thoughts
By this same time last year I'd read 53 books. I attribute this dip to a combination of spending more weekends with friends and marathon-watching Lie to Me and Bones.
My move to a bigger town this previous December has given me access to a larger library system, but the branch nearest to me is fairly small. I'm trying to figure out how to plan inter-library loans.
I gave short stories another try by reading Aimee Bender's The Color Master. It was a bit of a disaster.
Looking ahead
I got a whopping 12 books for my birthday! I've already devoured one and am eeny-meeny-miney-mo'ing my decision for what's up next.
I'm heading to the Carolinas with my mom in late July; I'm looking forward to taking in some historical sites, visiting the spa, and spending time with the wonderful woman who raised me.
How's your reading going this year?