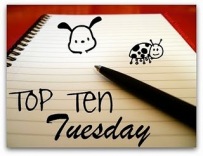 (Top Ten Tuesday is a weekly meme brought to you by The Broke and the Bookish.)
2013 is almost halfway gone, and thus far it's been a great one for reading. Here's my four favorite books so far.
The Little Women Letters (Gabrielle Donnelly) – My love of this book was totally unexpected, which makes me love it even more. The main character was wonderful, but I loved Fee and David even more.
Team of Rivals (Doris Kearns Goodwin) – I loved learning more about Lincoln and his methods of leadership.
Eon (Alison Goodman) – Holy feminist/otherwise amazing themes, Batman!
Medusa's Gaze and Vampire's Bite (Matt Kaplan) – Mythology, history, and humor. Perfect!
Baking Cakes in Kigali (Gaile Parkin) – Just lovely.
It's interesting that I'm including much more non-fiction in my reading these days. Wonder what's causing that change?