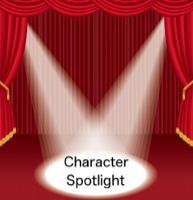 **Spoiler alert: This spotlight contains spoilers for The Little Women Letters. Proceed with caution.**
I know it's early days, but I think The Little Women Letters is going to end up as one of my favorite 2013 reads, mainly because of the excellent characters that populate it. I love them all, but I think Fee and David are my favorites.
Even though they've been a couple for thirty-some years, they're still remarkably independent — partially because David's job as owner of a publishing company keeps him traveling, and also because Fee is the product of the 1960s feminist movement.
Fee is my hero
I love Fee because she's independent, intelligent, a hard worker, a great advice-giver, and an excellent mother.
She's also amazing because of her flaws, as well as her ability to recognize where she needs to work on herself. Her willingness to admit her half of the fault in her husband's emotional affair takes a lot of strength, and saves the marriage.
My Inner Feminist is also a big fan, because Fee doesn't take crap from anyone. She's a great mix of radical feminism tempered by realism and humor, and lives comfortably in the sometimes-gray-area that sits at the intersection of feminism and family.
David makes me laugh
Donnelly's novel gets heavy at a couple points, and David consistently provides the lightness and humor the story needs to remain balanced.
He unquestionably loves Fee, and appreciates her for who she is. But he's not one to let his wife go un-teased for her beliefs; therefore he has invented Claire, his fantasy wife who "lives to serve him, only speaks when she is spoken to, and has no opinions at all about anything whatsoever." Claire is mentioned several times throughout the book, and I laughed over and over again at David's snarky witticisms.
Total surprise
David's infidelity is discovered almost out of the blue, and surprises the reader as much as it does Lulu (the Atwater's middle daughter). Suddenly we see David's jokes about Claire as less humorous and more a venting of his frustration at a marriage in which he's grown unhappy.
Worth aspiring to
Fee and David—in my mind, anyway—have the ideal relationship. Not because it's perfect, but because they experience adversity and are smart and strong enough to work together to overcome it. I love their humor, their eccentricities and contradictions, and their genuine humanity. Some excellent character building from author Gabrielle Donnelly.
That said, I was kind of bummed that Fee is a more developed character than David. She feels real and warm and dimensional, but he seems to have been created by the author merely as a tool to teach Fee some lessons about the checks and balances of marriage. David's cracks about Claire make for chuckle-worthy reading, but he just doesn't feel as real as the novel's other characters.
I loved The Little Women Letters so much that I gladly would have read 25 or 50 more pages, had they given Donnelly room to further develop David.