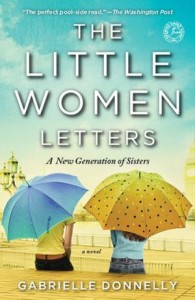 Sisters Emma, Lulu, and Sophie Atwater are anything but peas in a pod, and are never sure whether they love or irritate each other more. Lulu in particular feels overshadowed — she's less successful than her siblings, and has spent much of her adult life working dead-end jobs with no romantic prospects in sight. When her mother sends her up to the attic of her childhood home to find a book of family recipes, Lulu discovers a stack of letters written by her great-great-grandmother Josephine March.
Where did this come from?!
The cover, as you can see, looks a little light. The subtitle, "A New Generation of Sisters," also seems a little fluffy, and the blurb on the back cover doesn't say much about the plot. I was absolutely blindsided by the meatiness and humor and beauty of The Little Women Letters, and couldn't ask for a more perfect reading experience. It speaks to my Inner Romantic, Inner Lit Nerd, and Inner Feminist — three entities that don't have a history of agreeing.
Those familiar with Little Women will realize that Josephine March was actually a version of author Louisa May Alcott, who wrote the book about a family who was remarkably like her own. In the world of The Little Women Letters, however, Josephine is real, and the Atwaters direct descendents of the Marches.
You can't help but empathize with Lulu, who at nearly 25 still hasn't figured out what to do with her life. She's lost and a little bit hopeless, especially in comparison to her older sister Emma, who seems to have it all together. She really is like Jo March, wild and frustrated at the prospect of a life that does nothing but constrain her.
A fantastic novel
I was excited when Lulu finds the letters. Not only because I knew she'd find a kindred spirit in Jo, but also because I was interested to see how author Gabrielle Donnelly would portray Jo and the Marches. I've been disappointed by books like this before, and mishandling the March family would be a grave error in the eyes of Alcott fans.
Fortunately my hesitance was unnecessary. Donnelly showcased Alcott's creations perfectly — capturing Jo's wildness, Amy's beauty and grace, Meg's love and worry, and Marmee's wisdom and grace.
What's more, Donnelly catapulted some of those traits forward into the Atwaters. The experiences are modernized, but echoed in the lessons they learn are the lessons Alcott demonstrated in Little Women.
So many favorites
I can't even begin to express what great characters Donnelly has written. I love practical, perfect Emma, and freaked out right alongside her as she brought out her never-used-once credit card to buy a pair of shoes that cost as much as the refrigerator for which she and her fiance have been saving money.
I love Fee (the girls' mother), who at one point lived in a women's commune outside Boston surviving on Gloria Steinam and despising the patriarchy. The jokes Fee and David (the girls' father) make around the topic of feminism are amazing and ridiculous, and I caught myself several times making this horrendous cackling noise.
For all the humor, though, there are plenty of sobering moments. Life throws a lot at the Atwater family in a year, and they must learn their lessons just as the March sisters did all those years ago.
Read this book
If you enjoyed Little Women, read this book. If you like modern quasi-adaptations of Little Women, read this book. If you like humor and heart and heartbreak and lessons and love, read this book. If you want to continue being my friend, read this book. If you read nothing else this year, read The Little Women Letters.