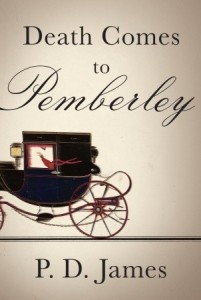 It is autumn 1803, six years after the events of Jane Austen's Pride and Prejudice. Elizabeth is finally settling into her role as mistress of Pemberley, and is glad to have her sister Jane nearby.
But the evening before the annual Lady Anne ball, the house is thrown into chaos when Lydia Wickham appears on the doorstep of Pemberley, crying hysterically and screaming that her husband has been murdered.
Now it is up to Darcy to discover the identity of the murderer. But is there more at play here than a simple scuffle in the woods?
Not a fan
When I first heard about Death Comes to Pemberley, I was ecstatic; when a copy arrived at my doorstep, I was thrilled; when I start reading, I was excited; the further I read, the more bored I became; and now that I'm done, I'm kind of angry.
Right from the beginning, the style of writing irked me. The characters spoke normally, but the narration felt too modern. There was a lot of unnecessary exposition, especially during the pre-trial and trial scenes.
While I love Mr. Darcy and Colonel Fitzwilliam, I disliked that they were the main characters of James' novels — mainly because they were written so differently than in Pride and Prejudice. The colonel's radical change in behavior can, I suppose, be attributed to the death of his brother and his sudden ascent to Viscount. Nevertheless, James portrayed him as being so curt, angry, and deceitful that I couldn't like him. Darcy, on the other hand, felt as dry as toast.
I wanted this to be a Darcy and Elizabeth book, but alas. While the men are running around solving the mystery, the women are at home…doing nothing, apparently. Writing letters of excuse for cancelling the ball seems to be their main activity. It's Darcy and Elizabeth's witty banter that make Pride and Prejudice what it is, and Death Comes to Pemberley had none of that.
There's a reason that Lydia and Wickham don't get much page time in Austen's novel: Lydia's an irritating creature and Wickham is a cad. I don't want to read a book that's focused on those characters.
Spoiler alert!
Death Comes to Pemberley was unexpectedly dark, dull, and slow. The "twist," while nicely done on the surface, turns out to be nothing more than re-establishing for the zillionth time that Wickham will say and do anything to get into a girl's knickers. And in the end, I just didn't care what happened.
The long and short of it
I was way, way disappointed by Death Comes to Pemberley. And I should have known I would be — no one does it better than Austen, as P.D. James says herself in the book's introduction:
"I owe an apology to the shade of Jane Austen for involving her beloved Elizabeth in the trauma of a murder investigation…No doubt [Austen] would have replied to my apology by saying that, had she wished to dwell on such odious subjects, she would have written this story herself, and done it better."
And that is the best thought in James' entire book.
Have you read Death Comes to Pemberley? What about other P.D. James books?
**Did you know I'm doing a giveaway of Oliver Pötzsch's The Hangman's Daughter? Click here to enter to win! Giveaway ends March 16th.**