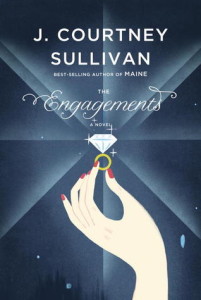 In 1947 a young advertising copywriter named Frances Gerety changed the world with a single tagline: "A Diamond is Forever." It kicked into gear a national obsession with diamonds, weddings, and idealized marriages from which we've yet to recover.
"A rich, layered, exhilarating novel spanning nearly a hundred years, The Engagements captures four wholly unique marriages, while tracing the story of diamonds in America, and the way—for better or for worse—these glittering stones have come to symbolize our deepest hopes for everlasting love." (Book jacket)
Frances was kind of a badass
I first heard about Frances Gerety and The Engagements on NPR. I had no idea that De Beers' famous tagline was written by a woman, much less the fact that it was just a throwaway line Gerety scribbled down at 3am.
Gerety's tagline may have been romantic (and launched an entire industry obsessed with romance), but Gerety herself was not — she never married, never wanted to. Her career and independence were more important to her than anything else. She was the first unmarried woman to become a full member of Pennsylvania's Merion Golf Club, and cleared a path for all the women who would follow her in the advertising industry.
My kind of gal.
What a fantastic novel
Sullivan's novel is incredible, one of my favorite reads of the year. She portrays relationships and situations in ways that feel real, with characters who are brave and stupid and witty and flawed.
The book spreads out over almost 100 years, with Frances' story as a central thread; along the way the reader meets Evelyn, Delphine, James, and Kate. Each of these people are part of a couple, but is also confronted with other couples' relationship issues — divorced children, engaged friends, etc. Sullivan portrays many different kinds of relationships, and it's great.
Thought-provoking
Although I could empathize with all the characters and their different challenges, the one with whom I identified most was Kate — and it wasn't always a comfortable feeling.
Kate has been with Dan for years, and neither has any interest in getting married. They have a beautiful home, a daughter, and don't see the point in buying into "the marriage machine."
Kate and Dan's story is introduced last, just when I had begun to lose hope that Sullivan would talk about any kind of relationship other than one between a white man and a white woman (A subplot of Kate's story is the marriage between her cousin Jeff and his husband Toby. Everyone's still white, which is kind of lame).
I identify with Kate because her story is mine. I've never been interested in making my relationship "official" in the eyes of the government by filling out some paperwork and having a ceremony. I never wanted a big white dress, never wanted to spend time and money on a wedding, never understood the whole point. Like Kate, I'm perplexed by people who spend thousands of dollars on and lose their minds over weddings.
But while I understand Kate's position, I can't support her making her disdain of the whole process so obvious, because it erodes the happiness — if only slightly — of those around her who are happy to throw themselves fully into wedding planning and the idea of traditional marriage.
In that respect I hope I'm not like Kate. I've never kept to myself my opinions on this subject, and I hope I haven't made anyone feel bad that a big wedding or a traditional marriage is their dream. Cause frankly Kate's more than a little irritating about it.
TL; DR
The Engagements is awesome, fun, meaningful, and a little bit heartbreaking. I love the history, the depicted change in cultural norms over time, the characters, and the writing. Read it right now!