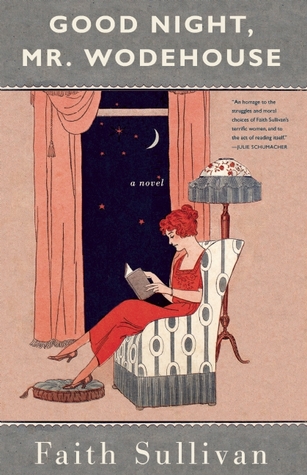 Most people would consider Nell Stillman's life rather ordinary. Harvester, Minnesota was founded when God was a boy, and no amount of modern conveniences seem able to drag it into the modern age.
But when you look closer, you see that Nell's life is actually extraordinary. She raises her son alone, falls in love, experiences some of the horrors of war, and has an impact on the world around her.
Throughout the ups and down, literature is Nell's constant companion. The books of Austen, Chekhov, and her beloved Wodehouse console her, transform her, and give her something to live for.
A total surprise
Good Night, Mr. Wodehouse started off as what I call a "quiet" novel: the plot is very domestic and calm — there's no murder, explosions, or heavy drama. Nell is simply a good person with realistic characteristics and flaws.
Things change at about the halfway point. Her son is home from WWI, recovering from wounds and crippled by shell shock. She starts getting anonymous notes calling her a "whore" for loving a man who is not her husband. The Great Depression and old age sap the life from her dearest friends.
Now the quiet novel I was liking just fine became a study of the human condition, and I couldn't stop reading. It was obvious the author wanted me to appreciate the classic books Nell was reading, but in truth I kept skimming over that stuff. I wanted to read about the characters.
The ending was so poignant, and hit me right in the gut. My husband found me crying on the couch with the book in my lap. Fortunately this is a sight to which he is accustomed, so it didn't cause a freakout.
Sullivan has written a beautiful, heartbreaking, uplifting novel. The characters feel like family, and I love them. Please read this book.