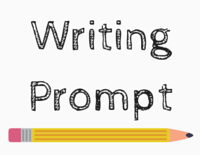 (This month's writing prompt is Puzzle: Write about putting together the pieces of a puzzle.)
Emily sat down across from her grandmother at the rickety kitchen table, box in hand.
"What are you doing, Miss Priss?" asked her grandmother, using one of Emily's pet names.
Emily smiled as she slipped the lid off the box.
"I'm going to put together this puzzle. Can you help me?" She tilted the box to the side, easing the pieces out onto the red plastic tablecloth. Together she and her grandmother turned all the pieces right-side up, spreading them out so they were easier to see and sort.
"What is this a picture of?" Emily's grandmother asked, reaching for the puzzle lid.
"A pretty farm scene," Emily responded, skimming the table in search of corner pieces. "It's one of those Thomas Kinkade ones. Mom got it for you for Christmas."
Her grandmother looked at the lid for a minute, then set it upright so they both could see it.
"Goodness, that's pretty. Where did it come from?"
Emily paused in her search, then continued.
"It's yours. Mom bought it for you last Christmas. I saw it in the guest room and thought we should put it it together while I'm here."
"That's a good idea. You always were my smartest grandchild," her grandmother said, reaching for a piece of farmhouse.
"I'm your only grandchild, Grandmother," Emily laughed. Her grandmother's eyes twinkled.
"That doesn't make it any less true. Where did your granddaddy go?"
Emily set a few pieces in front of her grandmother.
"These look like they belong to the farmhouse. Granddaddy went to feed the pigs."
"That's right, he told me that before he left," her grandmother said, fitting pieces together to complete the farmhouse.
The pair worked quietly together for a few minutes, Emily's grandmother whistling absentmindedly as she searched for pieces of a bridge and footpath. Emily recognized the old hymn and began singing; her grandmother's voice came in on the alto part and they sang a few verses together.
"I like singing with you," Emily said after the last verse.
Her grandmother patted her arm.
"I like singing with you too," the older woman said, picking up another piece of the bridge. "Now where could your granddaddy be? We're supposed to go to town today."
"We went this morning, remember?" asked Emily, snapping a chunk of the footpath to her grandmother's bridge section. "We got back before lunch and now he's feeding the pigs."
"Oh. I knew that, I just forgot," her grandmother said, then put down her puzzle piece and leaned back in her chair. "I know I ask a lot of questions. I just can't ever remember."
Emily reached across the table, took hold of her grandmother's hand, and squeezed gently.
"That's okay, Grandmother. You know we don't mind answering. Would you like a Coke?"
Her grandmother nodded. Emily squeezed her hand one more time, then got up and grabbed a glass from the cabinet. She dropped in a few ice cubes, then grabbed a Diet Coke from the pantry. She set the glass down next to her grandmother's elbow, popped open the can, and poured some over the ice.
"Thank you, sweetheart," her grandmother said after taking a sip. She looked down at the puzzle, running a finger over the now-completed farmhouse, bridge, and footpath. "This is a beautiful puzzle. Where did we get it?"