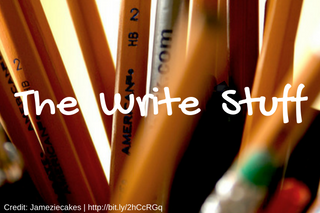 We're rounding the last turn of 2017, and The Write Stuff isn't steaming along quite as well as I hoped.
Goal 1: Finish four short stories in 2017

I'd love to meet this goal, but the harder I push to come up with an idea, the less creative my brain seems. I've been relying on something in life to inspire me, but when you get down to it my life isn't very inspirational. Unless people are suddenly interested in reading about a person who does the same things, day in and day out.
Goal 2: Write one in-character scene after every D&D session
(Formerly: Do as many of the 642 Tiny Things to Write About as I can)
Our whole group is suffering from what I call "D&D hangover." We finally faced the Big Bad Guy, only to discover — dun dun DUN — that he wasn't the Big Bad Guy after all. Now there's a worse storm coming for our characters.
I wrote a short "Saying Goodbye" thing soon after our last session and posted it to our Facebook group.
This campaign is taking a break for the holiday season; I'm going to try to write a few smaller things here and there in the meantime.
Goal 3: Join a writing community (and actually share stuff for feedback)
No new "official" writing means I haven't posted anything for review. I'd like to share some of my completed drafts with people — I'm just not sure how to do that, other than posting it directly to Facebook.
Goal 4: Document it all on this blog
Still plugging away. It's a bit of a downer compared to my last update. Fall and winter seem to be the least productive time for me, creativity-wise.
How's your writing going?