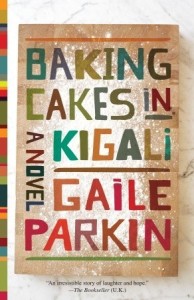 Angel is the best baker in Kigali. All kinds of people—wives, limo drivers, former child soldiers, teachers, parents, volunteers—come to her for her colorful, buttery cakes and cupcakes, as well as her faith, understanding, and friendship.
Kigali is a city of refugees, of survivors and diplomats and those seeking to help or be helped. It is here that Angel has made her home, and it is here that she will come to terms with the loss of her children, tell stories, help her friends, and attain peace.
Perfectly beautiful
This book popped up recently at Giraffe Days, where blogger Shannon showcased the book's beautiful cover and gave it a great review. I didn't have high hopes of my local library's having a copy, but lo and behold they surprised me and I got my hands on Gaile Parkin's book that Saturday.
And I'm so glad I did. Parkin's novel was just like her main character's cakes: light but dense, creative, and delicious.
It felt almost like a collection of short stories, with each story revolving around a person who comes to Angel requesting a cake. Some are friends and some are strangers, and behind each cake request is a story that must be told. All of Angel's customers open up to her, sharing joys and fears and sad and happy stories. Often they just need someone to listen, but often it is Angel who offers them help — whether it's a story of her own, advice, or the occasional sneak tactic.
I must admit to being somewhat on the edge of my seat, waiting for something bad to happen; this book is set in post-genocide Rwanda, after all, and tensions from things like overcrowding, poverty, and cultural differences are still running fairly high.
At its heart, Baking Cakes in Kigali is about one woman's role in the community, and how she and its other members come together to celebrate, mourn, and live.