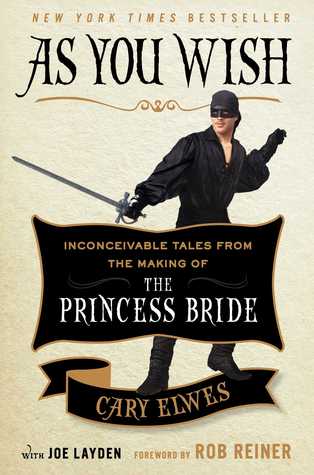 Although it didn't do well during its original 1987 release, the film The Princess Bride has been a cult classic for almost 30 years. It's been replayed countless times and quoted even more than that (seriously, when is it not the right time to quote this film?). I myself have watched the film about a zillion times, as well as the read the book by William Goldman on which it is based.
As a closet exhibitionist, I've always liked peeking "behind the curtain" and learning the stories on the other side. As You Wish: Inconceivable Tales from the Making of the Princess Bride gave me just such a chance.
Just lovely
As You Wish is a memoir by Cary Elwes, who starred as sweet, brave Wesley. It's a record of his memories of reading for the role, filming, becoming friends with the cast and crew, and his astonishment at the impact the film has had on American culture.
The book also includes reflections from Robin Wright, Wallace Shawn, Billy Crystal, Christopher Guest, and Mandy Patinkin, as well as author and screenwriter William Goldman, producer Norman Lear, and director Rob Reiner.
Much like The Princess Bride, Elwes' book has a little of everything: humor, danger, sword fighting, and above all, love. His book leaves you with exactly the same feeling as does the film: the awareness that these people care for each other, and that love is the greatest gift in the world.
Pick up a copy of this book as soon as you can. If you haven't seen the film, do so right now. And have fun storming the castle!