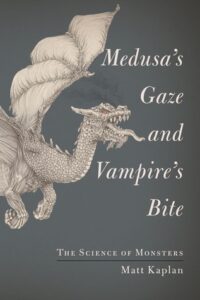 Whether they take the form of impossibly large boars, snake-haired women, or cobbled-together laboratory abominations, monsters have always been a part of our lives. They lurk at the edge of our consciousness, keep us from hanging our feet off the bed at night, and terrify us around the campfire.
Logically, we know that these things—the Kraken, the Minotaur, Sirens, Frankenstein's monster, vampires, werewolves—don't exist. But it's also true that at some point in history, people believed they did (or at least could).
In Medusa's Gaze and Vampire's Bite, journalist Matt Kaplan combines a love of history, mythology, and scientific research and discoveries to show how many of the monsters in our heads may have been brought about by ancient knowledge and observations.
First, a fangirl moment
Before we get any farther into the review, I just need to say this: Matt Kaplan is my new hero. His book and writing style is a so-awesome-it's-almost-unholy of Bill Bryson and Mary Roach: history, research, and humor wrapped around a fascinating topic. From the pop culture quotes at the beginning of each chapter to the giggle-inducing footnotes, everything about this book leads me straight down the road to nerdgasm.
Okay, moving on!
The actual review
I loved reading about how over-sized ancient lions could have inspired the Nemean Lion (the one Hercules supposedly fought), how piles of the bones of several animals mixed together in a tarpit could have set imaginative minds to creating chimera, and how bloated corpses with bloody teeth could conjure images of bloodsucking nightmares.
There's also chapters on genetically modified or otherwise quilted humans — such as the monster of Mary Shelley's Frankenstein, or the half-human experiments in H.G. Wells' The Island of Dr. Moreau.
Kaplans describes dozens of monsters—from the Rukh to extraterrestrials—and the science and facts behind what could have led to their larger-than-life occupation of the human mind.
And then he makes it even better.
Making the human mind tick
Although the dust jacket mentions scientific research, and Kaplan is referred to as "a noted science journalist," this is just as much a book on human psychology.
Jumbled bones might have suggested to ancient people the idea of chimera, but what's so scary about that? Why did humans invent these creatures in the first place? Why did they give these monsters names, histories, and places in mythology and religion?
In many cases monsters were invented to explain things that seemed impossible. Neverending fire shooting out from the ground? Dragons! Waking up in the middle of the night with the feeling of an invisible person sitting on your chest, preventing you from moving or breathing? Gotta be demons.
I loved reading the modern science that helps explain the potential causes of these monsters' birth; even more fascinating was learning how ancient people's experiences shaped their creation.
Monsters of the future
The last several chapters cover more modern monsters: HAL 9000 (of "2001: A Space Odyssey"), dinosaurs ("Clever girl…"), and others. Many of these monsters do not actually begin as such — they are created by man and considered to be abominations, or as disposable technology. It's their ill treatment at the hands of humanity that forces them to do monstrous things.
Kaplan's final chapter is about aliens, and that chapter and the book's conclusion shows the sweeping changes in monster lore, and how the definition of "monster" has changed.
Monsters can always be found at the edge of what we know. Beyond our ancient ancestors' firelight were dark, unexplored forests, filled with unexplainable things. Once we explored the forest we set sail on the vastness of the sea, then the sky, then the always-expanding and accelerating universe around us. With all the knowledge we have attained, what monsters are there for us to fear?
Through the technology we have created, we now pose a greater threat to ourselves and our planet than we ever have before…It is from the nature of these threats and the staggering uncertainty surrounding them that we rise as monsters.
Although the "green" theme came out of nowhere and feels a little aggressive, Kaplan's point is brought home by films like "E.T." and "Avatar," in which it is the humans who become the monsters.
Read this now
This book (along with The Little Women Letters) is poised to be one of my favorite reads of 2013. Medusa's Gaze and Vampire's Bite is an awesome combination of science, psychology, history, and humor. Fair warning, you will be very tempted to read chunks of it out loud to anyone who even pretends to listen.
What are you waiting for? Go!