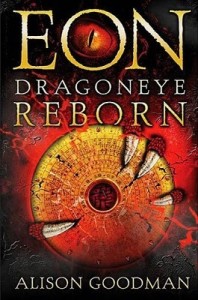 For Eon, failure is not an option. His livelihood, and that of his master, depends on Eon's ability to be chosen as a Dragoneye, an apprentice to one of the twelve energy dragons.
Being chosen means great prestige; being rejected could mean death. For Eon is actually Eona. Women are forbidden to practice Dragon Magic — and the penalty for doing so is death.
When the impossible occurs at the selection ceremony, Eona is thrown into even more danger. New enemies appear around every corner, and Eona must draw upon the strength and wisdom of her allies—and herself—in order to survive.
Not expecting that
I'm a sucker for dragons and YA, so I picked up Alison Goodman's Eon expecting to enjoy it. Fantasy, dragons, mythology, intrigue, action, great world-building, kick-ass heroine…what's not to love, right?
Of course, you can get most of those things in a lot of novels these days — even the ones that are just okay. What's much rarer is a YA novel that incorporates all these things and gives the reader themes and ideas that keep them thinking long after they've finished reading.
For me the combination of characters, themes, and thoughts made Eon a nearly perfect book.
Damn, what a ride!
I was not surprised that "accepting your true self" was a big theme, but I didn't expect to find that theme expressed so often, and through so many characters. Many of Eona's allies, and even some of her enemies, are hiding or projecting their true selves in various ways, and I loved running across those moments when characters reveal themselves to the reader.
Eon is character-based (love that!), but don't think you'll miss out on plot. Eona's homeland is on the brink of war, torn apart by power-hungry aristocrats. The Dragoneyes themselves are split along political lines, and where their allegiance goes so too do their dragons' powers.
If you liked Cashore's Graceling, Hartman's Seraphina, or Fforde's The Last Dragonslayer, I know you'll love Eon.
And—bonus!—the sequel, Eona, is already out! Now where did I put that library card?