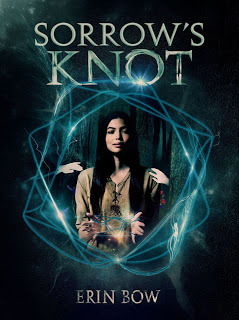 The hamlet of Westmost sits at the edge of the world — beyond its wards, dark things creep. For many years it has been Willow's responsibility to bind the dead, and to keep the restless spirits from harming the living.
Otter, Willow's only child, has always known that she will become a binder like her mother. It will be up to her to protect the Shadowed People — including her friends Kestrel and Cricket — from the horrors around them.
Something is wrong in Westmost. Willow's power is legendary, but her abilities are turning backwards, turning inward and backfiring. The wards surrounding the village begin to fail, and Otter doesn't have the training to repair them.
And then, for the first time in generations, a White Hand steps forth from the darkness. Its touch is poison, turning the limbs white and quickly driving the victim insane. The village is in danger, but Otter cannot save them. Will Westmost's deliverance come from the wards that have protected them for hundreds of years, or will Otter have to seek salvation beyond where the world ends?
Good, but not great
Sorrow's Knot earned the Monica Hughes Award for Science Fiction and Fantasy in 2014, and I can see why: it's a good novel. The plot is tight, most of the characters feel real, and the magical precepts are intriguing.
That said, it just wasn't one of my favorites. If you've been reading this blog for more than a couple weeks, you know that excellent world building is my jam — and poor world building is an enjoyment killer.
That's where I think Sorrow's Knot falls a little flat. The world building, while detailed, is never really very clear. Who are the Shadowed People, how do their magical knots and wards work, why is Westmost populated almost entirely by women? The reader has to make a lot of inferences; not a bad thing, but I think the author forced me to infer things she could have explained outright — and explained outright some things I would have liked to infer on my own.
Erin Bow's novel is full of strong female characters, fascinating magic, and a twist that forces Otter to confront her deepest-held beliefs. Plus I'd be lying if I said I didn't have a crush on Cricket. Sorrow's Knot won't make it onto my list of favorite reads this year, but it's worth a look if you enjoy thoughtful YA fantasy.
(I read this book as part of the Monthly Motif Challenge. April's challenge was to read a book that's won recognition or a literary award.)