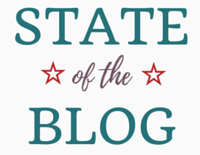 Summer's in full swing here in South Texas, and I've got the sunburn to prove it. Let's see how my reading has gone over the last few months.
First, the basics
Books read since April 1: 22
Pages read: 9,439
Books reviewed: 16
Books not enjoyed: 3
Books not finished: 1
Library books: 16
Re-reads: 2
Genre breakdown
Fiction: 20
Non-fiction: 4
YA: 7
Fantasy: 8
Mystery/Thriller: 5
Period Novel: 8
Humor: 1
Biography: 2
Religion/Spirituality: 1
Reading challenges
Pay it Sideways: 6/12
Back to the Classics: 3/9
Some thoughts
I've read fewer non-fiction items this quarter, but my overall reading is up.
Had my first major DNF of the year with Moll Flanders. I hated giving up, but whew, what a stinker!
I'm enjoying Book Blogger Confessions, despite my infrequent participation.
Looking ahead
I've got to catch up on a review backlog, and then it's time to jump back into my reading challenges. I've only completed one challenge since I started blogging, and this year I'm determined to complete two.
How's your reading going this year?