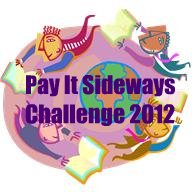 (I read this book as part of the Pay it Sideways Challenge. Join in anytime, we'd love to have you!)
Although commonly referred to as Moll Flanders, Defoe's 1721 novel is actually titled The Fortunes and Misfortunes of the Famous Moll Flanders, &c. Who was Born in Newgate, and during a Life of continu'd Variety for Threescore Years, besides her Childhood, was Twelve Year a Whore, five times a Wife (whereof once to her own Brother), Twelve Year a Thief, Eight Year a Transported Felon in Virginia, at last grew Rich, liv'd Honest, and died a Penitent. Written from her own Memorandums.
And after having DNF'd this particular gem at about 65 pages in, I can safely say that the title is the best part of the novel. It's exciting and concise…unlike the story.
At first I thought I was having trouble getting into the story because of the language—early 18th century writers are not known for their clarity, and Defoe says in 50 pages what he could have said in 10—but then I decided that Defoe just couldn't make me care about Moll.
She makes stupid decisions, first out of ignorance and then because those decisions have made her desperate. In the end I decided the potential reward wasn't worth the effort. Onward to better books!
About the recommender
bundleofbooks is run by a charming lady whose recommendations, despite the snafu above, are always bang on the mark. She reviews most adult fiction and non-fiction, heavy on the classic literature, and is always making me jealous by posting pictures of charming European bookstores and tweeting about how lovely the weather is.
bundleofbooks enjoyed Moll Flanders, citing sympathy with the title character and expressing a desire to know what happens to Moll after the story's close. Check out her review here.