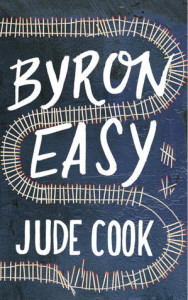 Disclosure: I received a free copy of Byron Easy from publisher Pegasus Books, LLC, but was not compensated for discussing/reviewing it. My thoughts on the book are my own.
"It's December 24th, 1999. Byron Easy, a poverty-stricken poet, half-drunk and suicidal, sits on a train at King's Cross Station waiting to depart. In his lap is a backpack containing his remaining worldly goods—an empty wine bottle, a few books, a handful of crumpled banknotes. As the journey commences, he conjures memories (both painful and euphoric) of the recent past, of his rollercoaster London life, and, most distressingly, of Mandy — his half-Spanish Amazonian wife — in an attempt to make sense of his terrible—and ordinary — predicament." – Goodreads
Welcome to my nightmare
I've found myself in the predicament feared most by bloggers: giving a bad review to a galley they've received. I've always hated disappointing people; the publisher has spent time and money mailing me a free book, and here I go crapping all over it.
To clarify, I don't think that Byron Easy is badly written — it's actually got some great similes (my favorite being "vulnerable as a peeled egg") and unfolds the story slowly and well, inviting the reader to keep reading just a bit more.
Unfortunately I just don't find the story compelling. I've never done well with stream-of-consciousness novels, and I couldn't seem to drum up any sympathy for the title character — and if that doesn't happen in the first 50 pages, I'm not sticking around any longer to see if it shows itself.
I'm a "pull yourself up by the bootstraps" kind of person, less sympathetic to characters and people who find themselves in unpleasant situations, especially when they act as their own enablers.
I didn't find myself rooting for Byron so much as wishing he would just stop talking.
Byron Easy was my first DNF of the year, but I attribute this partially — she says, rationalizing — to my current mood. I'm in a fairly positive head space at the moment, so reading such a relentlessly depressed and negative story was, to borrow a phrase, killing my buzz.
Onward and upward, I suppose.
Anyone else have trouble handling a DNF of a galley read? How do you cope?