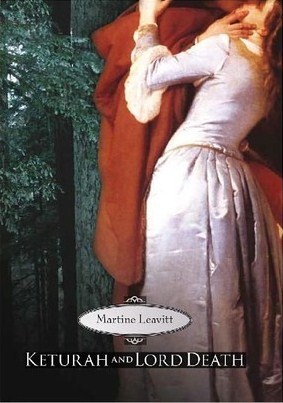 While wandering the woods outside her small village, Keturah becomes lost. On the third day, Death comes for her.
Using her talents as a storyteller, Keturah convinces Death to let her live for one more day. But she must find her true love before the next sunset, or she will die.
I can't even
This book is so dumb I couldn't even finish summarizing it.
I'm tempted to list excuses. It's a young adult novel targeted at girls, so of course it's sappy and ridiculous. There are some potentially interesting themes. But in truth, it's…it's just not good.
The plot is uneven. Death wants to kill Keturah, but she tells a story that he somehow considers compelling enough to let her live. She spends the next several hundred pages setting her friends up with husbands, but then there's also a plague and a witch?
It felt super generic and overly sappy. I kept imaging Death as a kid wearing all black, who does a lot of whining and constantly has his hair combed over one eye.
The author couldn't make me care about any of the characters. I skimmed after page 50, mostly to see if it got any better. It didn't. The ending is nearly nonsensical.
A totally unexpected bummer of a read.
(I read this book for the Monthly Motif Challenge. September's challenge was to read a book that involves a game of some sort.)