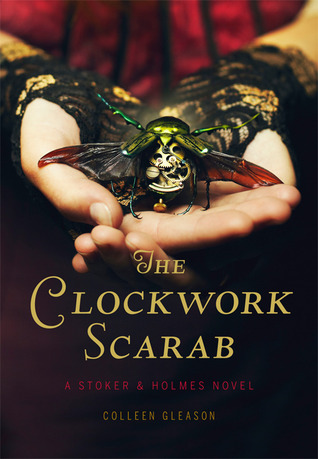 Vampire hunting and mystery solving are not ideal occupations for the well-bred Victorian lady; unfortunately for Evaline Stoker and Mina Holmes, there's no escaping the family business.
When young women in their social circle start disappearing, these two barely-friends must put aside their differences and rely on each other to solve the mystery of the Egyptian scarab — before they're next.
Deliciously steampunk
I love smart female characters, and author Colleen Gleason has put two in The Clockwork Scarab, the first in her Stoker & Holmes YA series. Both have big shoes to fill, and are hungry to prove themselves to their families and the public.
Mina is my favorite — both women are intelligent, but Evaline relies too much on brute strength. Mina inherited her uncle's sharp eyes and deductive reasoning skills, and her personality is less grating.
The world building is interesting — with electricity outlawed, those on the cutting edge rely on ingenious steam-powered devices to make their lives easier.
As the first in a series, The Clockwork Scarab has to set the scene for subsequent books; Gleason introduces us to an alternate reality and more than a half-dozen important characters. It's clear this novel is just the warm-up.
But a little scattered
I like meaty novels, but this one has a lot going on:
Steampunk
Alternate reality
Egyptian lore
Multiple potential love interests
Time travel
It's that last one that really popped the bubble for me. Gleason shoehorned in the time travel plot, and it never felt like it belonged. I'm betting it continues as a subplot in the rest of the books, but right now it feels very unformed — plus I somehow found it a little more interesting than the main plot, which probably wasn't Gleason's goal.
The novel is almost totally plot-driven; not a bad thing, but I'm more of a character development kind of gal, and there wasn't enough of that in my opinion. I met a lot of characters throughout the book, but found it difficult to empathize with them because Gleason didn't give me much characterization.
While I thought The Clockwork Scarab was a fun, light read, I'm not sure I enjoyed it enough to wait for the next in the series.
(I read this book as a part of the 2015 Monthly Motif Challenge. April's challenge was to read a murder/mystery, a book in which someone dies of mysterious causes, or a book in which the truth must come out.)