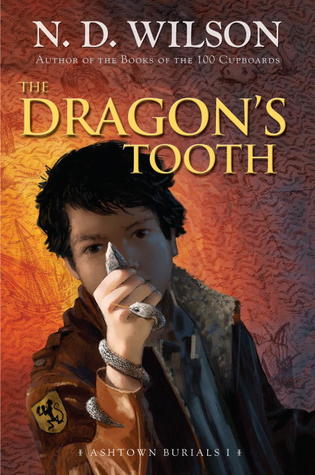 The last two years have been hard on Cyrus and Antigone Smith. Together with their older brother Daniel, they've had to abandon their home in California and move to a decrepit roadside motel where nothing ever happens. Until the strange tattooed man arrives and demands a specific room.
A few hours later the tattooed man is dead, and Daniel is missing. Cyrus and Antigone have pledged their loyalty to a mysterious organization whose members serve as explorers, protectors, and jailers.
Just when the siblings think things can't get any harder, the order's headquarters come under attack. Who can Cyrus and Antigone really trust, and what secrets about their past are being kept from them?
Not sure how I feel
The Dragon's Tooth started out strong. Cyrus and Antigone are likeable characters, the mystery was nicely paced, etc. But somewhere along the way I just lost interest.
I think it's to do with author N.D. Wilson's world building — it's confusing. New info is thrown at the reader very rapidly, and I had a hard time keeping it all straight.
However, it's probably not a coincidence that I lost interest in The Dragon's Tooth just as some stuff in my personal life hit the fan. Everything went a little sideways, and I had trouble focusing on just about anything for any period of time.
So in the case of The Dragon's Tooth I'd say it's a case of "It's not you, it's me." It's the first in a series, which probably accounts for the world building deluge in this novel. I don't think I'll be picking up the next book, though.