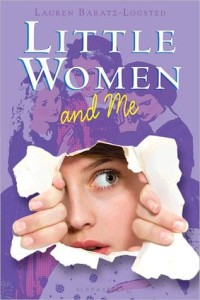 When 14 year-old Emily March is given an English assignment to write about what changes she would make in order to improve a classic novel, Little Women comes immediately to mind. If she can't fix her own problems — her crush actually likes her sister, and she's sick being the middle child — maybe she can make sure Laurie marries the right March sister, or keep Beth from…you know.
But the assignment goes terribly awry when Emily is sucked into the novel and finds herself part of the story, the fifth March sister. She discovers that purposefully altering the story is harder than it looks, but that accidentally altering it is all too easy. Can Emily find a way to make Little Women better? And how will she ever get home?
A thousand times no
The book description says that Little Women and Me "will appeal to fans of Little Women as well as anyone who enjoys time travel or a modern twist on an old favorite."
What a load.
Emily is the most annoying character I've come across in a long time. She's selfish, obnoxious, and narcissistic — a perfect characterization of a young teen, but not someone for whom I'll ever feel any affection. Especially when she starts f*cking around with one of my favorite books.
Trying to save Beth is admirable, but Emily makes other changes that get my blood boiling. She's also completely inept at even trying to behave like the March sisters. Her behavior is so teeth-grindingly uncomfortable and irritating that I skipped a large chunk of the middle of the book; I didn't want to see what other things she was ruining.
If you want a real story, read Little Women instead. If you want an amazing adaptation/modernization, read The Little Women Letters (one of my favorite reads of 2013). Read any other modernization. Just please, please don't read Little Women and Me.