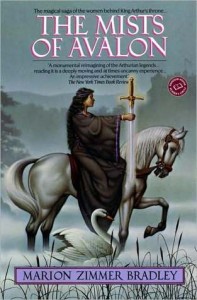 I've read pieces of modern interpretations of Le Morte d'Arthur and seen both the "Merlin" mini-series and "The Sword in the Stone" about six thousand times each, but my knowledge of the Arthurian legend is pretty weak. My sister-in-law loves the whole genre, though, and was kind enough to lend me her copy of Marion Zimmer Bradley's The Mists of Avalon. I wish I could have enjoyed it.
The main issue was that I didn't understand the world building. There's the regular world but there's also Avalon, this magical place. Apparently there's extensive blending of the two as people wander in and out of each, occasionally on accident.
I could never get a grasp on exactly where characters were, or what they were, or even who they were; they've all got multiple names (one Christian, one pagan, and sometimes a third from somewhere else), and many of them sound similar. I couldn't keep characters straight.
Beyond that, I just wasn't interested in political machinations and maneuvering, blatant deception, incest, and the creepiest/lamest setup for a threesome scene I've ever read — not to mention a cop-out "pan to the fire" description from Bradley that took any pep right out of what could have been the best—or at least the sexiest—scene.
I dislike giving up on a book, but there was no way I was going to push through 876 pages just to prove I could. Next!