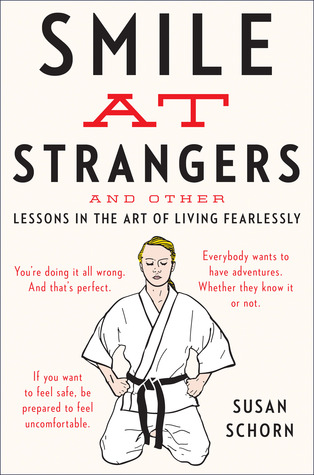 Susan Schorn began taking karate in order to conquer her temper and anxiety; along the way, she discovered that her studies were bleeding into her personal and professional life. Smile at Strangers: And Other Lessons in the Art of Living Fearlessly is an exploration of how discovering a way to empower one part of your life can make your entire existence more wonderful and meaningful.
What would I do if I wasn't afraid?
Fear and worry rule my life, and it sucks. They keep me from doing stupid things (like driving too fast), but they also keep me from doing things that are important (confronting people, applying for that dream job, etc.).
There are many people like me out there, but I wouldn't be surprised to learn that the majority of those people are women. We don't want to cause trouble, ruffle feathers, or be called a "bitch." We're sometimes afraid to make noise, say "no," or take up too much metaphorical space.
Smile at Strangers takes lessons from some of history's best martial arts instructors and puts them in a contemporary context, explaining how readers can use them — on the mat and off — to improve their lives in whatever ways they choose.
And it might have inspired me to do a few new things, too.
(I read this book as part of Non-fiction November. Click the link to see posts from this and previous years!)