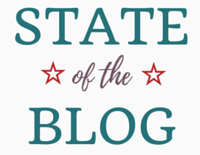 It's been a crazy summer, and I'm glad it's almost over. Work has been crazy, home life has been crazy, everything has been crazy. We had an actual cold snap recently, and it's getting me excited for fall and winter — more time to cozy up with a book.
The basics
Books read since July 1: 13
Pages read: 4210
Books reviewed: 10
Books not enjoyed: 1
Books not finished: 0
Library books: 0
Audio books: 0
Re-reads: 1
Genre breakdown
Fiction: 7
Non-fiction: 6
Fantasy: 2
History: 4
Memoir: 2
Mystery/Thriller: 1
Young adult literature: 2
Children's literature: 1
Gender: 1
Essays: 2
Humor: 2
Reading challenges
The Mount TBR Challenge: 4/12
Reading Outside the Box: 2/4
No progress on either of my 2014 challenges. Check out books and reviews here.
Some thoughts
Another slow reading quarter. Last time it was due to binge-watching Lie to Me and Bones; this time it's because of an insane work schedule and binge-watching The West Wing. It may also be because I've been playing Diablo III with Best Friend.
On one hand I feel bad that my reading has slowed, but on the other…I kinda don't. Work is unavoidable, but I've deliberately chosen to watch a television show I love, play a silly game with the man I love, and work on a new cross-stitch. What's to be upset about?
Looking ahead
I need to kick my reading challenges back into gear. I'm relying on the library for most of those books, and haven't spent any time coordinating inter-library loans.
I've read all but three of my birthday books. I'm looking forward to getting to Essentialism, The Copper Sign, and S.
Stay tuned for a review of an advance copy of Ed Gorman's Riders on the Storm!