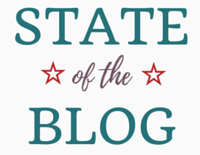 Gah, I blinked and it's July! Some good reading these last few months, might have found a couple more favorites to add to my "annual re-read" list. Here's the skinny:
The basics
Books read since April 1: 29
Pages read: 11,553
Books reviewed: 21
Books not enjoyed: 2
Books not finished: 0
Library books: 13
PaperBack Swap Books: 6
Audio books: 1
Re-reads: 7
Genre breakdown
Fiction: 21
Non-fiction: 8
Children's literature: 2
Fantasy: 10
History: 5
Memoir: 2
Mystery/Thriller: 7
Paranormal/supernatural: 12
Young adult literature: 12
Reading challenges
Reading Outside the Box: 2/3
The Mount TBR Challenge: 10/12
Audio Book Challenge: 1/1
So close to completion I can taste it! See links to reviews for these challenges here.
Some thoughts
And I'm back to reading more fiction than non-fiction.
I've re-read the entire Harry Potter series. I'm even more in love with it than before.
I've progressed amazingly on my reading challenges. Looking forward to completing them before the end of the year!
The sudden uptick in YA reading correlates nicely with my stress levels and need to escape.
I seem to be at a stalemate with PaperBackSwap. No one has requested the books on my giveway list, and I can't find any books to request (even though I have plenty of credits). Kind of a bummer.
Looking ahead
I got so many books for my birthday. I can't wait to share them with you guys!
Been a rough few months. Looking forward to the 4th of July holiday and some actual relaxation (knock wood).
How's your reading going this year?