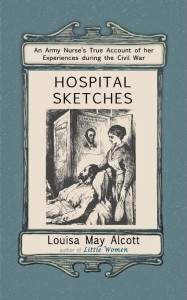 In 1863 author Lousia May Alcott (of Little Women fame) spent six weeks as a volunteer nurse for the Union Army near Washington, D.C. A bout of typhoid fever forced her to return home earlier than she wanted, but some years later she returned to the letters she had written home during that time and turned them into An Army Nurse's True Account of Her Experiences During the Civil War. She changed many names, including her own, but the stories themselves are true.
A joy, as always
I've been reading Alcott all my life, and I know that within her works I will always find a lovely mix of the funny, the sad, and the touching. This pattern continues with Hospital Sketches.
The book is slim—less than 100 pages—but in it all the truth and beauty and sadness of life and war resides. Alcott tells of men who bravely pass through fevers, wounds, and amputations, and are eager to return to battle. She endeavors to chronicle the last days and moments of men's lives, so that they may not be forgotten. There are some moments so heartbreaking that I had to wipe away some tears.
But there are moments of humor and happiness, of soldiers reunited with their loved ones. My favorite moment happens early in the book, when Alcott is washing a soldier (missing leg, shattered arm) just brought in from the Battle of Fredericksburg:
Lord! what a scramble there'll be for arms and legs, when we old boys come out of our graves, on the Judgment Day: wonder if we shall get our own again? If we do, my leg will have to tramp from Fredericksburg, my arm from here, I suppose, and meet my body, wherever it may be.
Alcott did not think much of Hospital Sketches (in fact she didn't seem to like anything she wrote, and was always surprised when something was a success), but I agree with many others when I say that I appreciate her efforts to describe what it was like, to show the truth of things no matter how terrible and sad. What a lovely and well-done book.
(I read this book as part of The Mount TBR Challenge. Here's to a shorter list!)