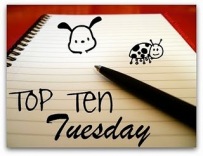 (Top Ten Tuesday is a weekly meme brought to you by The Broke and the Bookish.)
This week's task is to list topics, words, and phrases that immediately attract my attention and make me pick up and want to buy the books in which they are mentioned. Don't know if I'll make it to ten, but let's give it a shot!
Sex/psychology/sociology – That's right, I read sex books. I love reading about sex research and all the areas of psychology and sociology that have sprung up (ha, pun!) around it. Tell me that David Buss or Cindy Meston has written a new book and I'm on it like white on rice on a paper plate in a snowstorm.
Regency – Pride and Prejudice was my gateway drug into this genre. I want to get my grubby paws on everything Georgette Heyer ever wrote — although no character can take the place of Lizzie Bennet.
Fantasy – Seriously, my love of this stuff is unhealthy. Show me book that includes dragons, magic, and a BAMF heroine and I'm putty.
History – Okay, not all history. I love Bill Bryson because At Home and A Short History of Nearly Everything give me little bites of everything from how salt and pepper came to be common table items to how we think the world was made. Politics isn't normally my thing, but I loved learning about Abraham Lincoln and what made him such a great president.
Most of what I'm reading these days—and what I've always read, really—falls into one or more of these categories. Fortunately there's a never-ending supply of each!
What topics hook you immediately? Let me know in the comments!