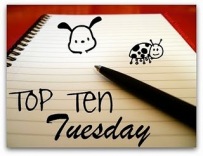 (Top Ten Tuesday is a weekly meme brought to you by The Broke and the Bookish. Want to make your own list? Clicking the image will take you to this week's post. Happy listing!)
Is there a book you tell people you've read, even though you actually haven't? Have you agreed with someone's positive review of a book, when really you hate the book with a fiery passion? Time to spill the beans! This week's list is centered around books you've lied about.
One thing that I've always prided is my inability to lie about my feelings toward a specific book: if I loved it, I rave about it constantly; if I hated, I rant about it constantly. But I have a secret, an enjoyment of books of a certain type that I don't talk about often, because I think a lot of people consider it taboo: I read books about sex.
I don't mean romance novels. I mean things like Bonk (Mary Roach), a book that talks about the nitty-gritty of the sex research that goes on in labs across the country and world. I'm obsessed with David Buss and his theories of evolutionary psychology, and in college I took classes like "Human Sexuality," "Abnormal Psychology," and "Sexual Deviance." A short sampling of the "sex books" I own/want to read include:
Why Women Have Sex: Sexual Motivation, from Adventure to Revenge (Cindy Meston, David Buss)
The Dangerous Passion: Why Jealousy is as Necessary as Love and Sex (David Buss)
The Evolution of Desire: Strategies of Human Mating (David Buss)
Intimate Matters: A History of Sexuality in America (John D'emilio, Estelle B. Freedman)
Virginity Lost: An Intimate Portrait of First Sexual Experiences (Laura M. Carpenter)
Sex at Dawn: The Prehistoric Origins of Modern Sexuality (Christopher Ryan, Cacilda Jetha)
The Technology of Orgasm: "Hysteria," the Vibrator, and Women's Sexual Satisfaction (Rachel P. Maines)
Affection: An Erotic Memoir (Krissy Kneen)
I've also got almost as many books relating to feminism and sexuality. I think this collection would make my psychology professors happy, but it's not a genre that I often discuss unless I'm with close friends. I always tell people never to be embarrassed by what they enjoy reading, but I'm kind of afraid I'll be thought of as some pervert who gets her jollies from reading about others' sexual experiences.
But to me it's not about the titillation — if I wanted that, I'd read a romance novel. There's nothing remotely titillating about trying to figure out why jealousy exists when all it seems to lead to spousal abuse; and while it's kind of funny to imagine a penis camera, it's not particularly arousing. But it is fascinating, and so I read it. I just don't talk about it in mixed company.
What books have you lied about? Is there a genre that you're embarrassed to love?