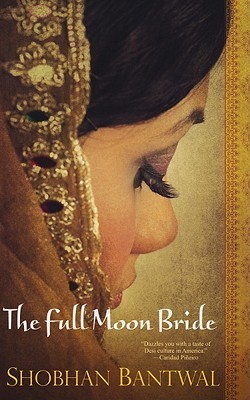 Soorya has spent most of her life alternately railing against and rolling her eyes at her family's Indian heritage. But now that she's hit 30 with nary a boyfriend in sight, she's decided to get a husband the old-fashioned way: by letting her parents choose one for her.
Trouble is, no man seems interested in a bride who's too tall, too heavy, too dark, and makes too much money. And when Soorya is finally introduced to a man who's attractive and nice, it turns out he's a starving artist who's never had a real job and is looking for a rich wife to finance his Broadway dreams.
When a lawyer with whom she works shows a sudden interest, Soorya is torn. Lou is from a very different background, one her family would have trouble seeing past. Meanwhile the starving artist keeps showing up, and makes Soorya's heart beat just a little faster…
A solid novel
I always enjoy learning new things, and the Desi culture is no exception. Author Shobhan Bantwal does an excellent job of placing her main character right in the gray area between traditional Indian culture and her need to be an independent American woman.
The story was nicely written, albeit with some extemporaneous stuff that could have been removed, and I enjoyed seeing the shift in how Soorya sees herself, her parents, and her life.
**Caution: This section contains spoilers.**
I'm also not sure how I feel about Soorya's eventual choice for a husband. The novel's Indian characters express again and again an oddly selective preference for aspects of their own culture: they have no problem celebrating Thanksgiving with turkey and stuffing, but can't seem to handle the idea of Soorya dating a black man (or of her cousin dating a white woman). In some ways Soorya's final choosing of Rajesh makes it feel like the author is saying that Indians can only be happy with other Indians.
But then I come back to the example of Soorya's cousin, who ends up with a white woman with a child of her own, and there's no doom and gloom about it. I don't know; something about it just doesn't sit right with me. Am I over-analyzing?
**End spoilers.**
So while the ending was not a surprise, the journey to it was fun. If you're looking to put a toe into Indian culture and get an enjoyable romance, look no further than The Full Moon Bride.