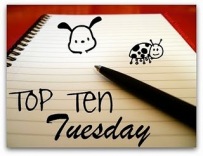 (Top Ten Tuesday is a weekly meme brought to you by The Broke and the Bookish. Want to make your own list? Clicking the image will take you to this week's post. Happy listing!)
Today's list is all about books that you just had to buy, but are still sitting on your bookshelf. I think most people will have no problem coming up with ten items this week!
Like many readers, I have a love/hate relationship with my TBR list. I love adding new books to it, but I'm regularly reminded that I don't have the time, energy, or ability to read all the books I want to. But I digress. On to the list!
1. The Letters of John and Abigail Adams – After Best Friend introduced me to 1776 the Musical (which you should totally watch), I got a little obsessed with John Adams. From all accounts, he and his wife Abigail were very much in love, and many of their letters to each other have survived. Abigail was a firm believer in abolition, and was just as intelligent and passionate as her politician husband. I've had the Penguin Classics edition of those letters for a few years, and have never gotten around to reading them.
2. Eat, Pray, Love (Elizabeth Gilbert) – I hopped on this bandwagon with everyone else, and have read the first section. At first I told myself that I was avoiding reading it because I didn't want it to end. But that's definitely not my style. I guess it's just not what I'm looking for right now. Plus I've heard some negative quips about it that are keeping me from finishing.
3. O Clap Your Hands: A Musical Tour of Sacred Choral Works (Gordon Giles) – London Vicar Gordon Giles takes the reader through 30 of the best known sacred choral works, talking about each one, its meanings, and some spiritual thoughts behind each. The book comes with a CD on which all 30 songs are included, with the idea being that you listen and read simultaneously. I need to schedule some time to do that.
4. Inbound Marketing: Getting Found… (Halligan, Shah, and Scott) – A work-related book that I'm avoiding reading because I'm all inbound marketed-out and want to read just about anything else.
5. In Pursuit of Silence (George Prochnik) – We live in a loud world, and Prochnik's book is an effort to see how that came about. What dangers are we facing due to all this noise? What are we missing by not cultivating silence? Ironically enough, I haven't picked this one up because I haven't been able to find enough quiet time.
6. Super Sad True Love Story (Gary Shteyngart) – I'm interested in seeing how this book goes, but it sounds a wee bit Dystopian, and I'm afraid to open it up. But I can't wait to see how Shteyngart crafts a world in which books are considered messy nuisances, and love is something to make fun of.
7. At Home: A Short History of Private Life (Bill Bryson) – Clearly the descriptor "short" was added in jest; at just over 450 pages, this book definitely counts as a chunkster. While traveling from room to room in his home, Bryson tells a bit of history dealing with each (bathroom includes the history of hygiene, the bedroom the history of sex, etc.). It's broken up into handy sections, but they're still long, and I haven't had the time to dedicate to diving in.
8. I Was Told There'd be Cake (Sloane Crosley) – A series of essays by humorist Crosley, who manages to destroy a museum exhibit, call the cops on the wrong neighbors, and a host of other catastrophes. I could probably read one essay at a time, but I get the feeling that once I crack the sucker open I'll be unable to stop.
9. The Woman Behind Little Women (Harriet Reisen) – I got this book for Christmas, but had just purchased Susan Cheever's Louisa May Alcott: A Personal Biography. I read the latter book first, then dove straight into Geraldine Brooks' March — and that's just too much of a good thing. So I'm giving it some time before I pick this one up.
10. An Accomplished Woman (Jude Morgan) – This was another Christmas gift, and I've never heard of the author or the book. The plot sounds interesting, but I've had other books that I wanted to read more, so this one's been at the bottom of the pile. Maybe next week?
I'm really backlogged on reviews, so I won't get to any of these books this week. But Best Friend and I are dog-sitting this weekend, and maybe I'll have some free time to get to one of these then.
What's still sitting on your TBR pile? What's keeping you from jumping in?