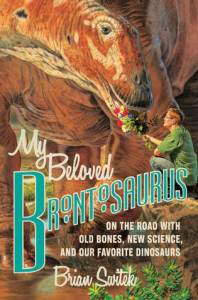 Humans have been fascinated by dinosaurs since we first uncovered their fossilized remains. Long-necked gentle giants and sharp-toothed nightmares star in movies, fill museum halls, and flit through our collective imaginations. In My Beloved Brontosaurus author Brian Switek canvasses old beliefs and shares the newest paleontological discoveries — each of which brings us a bit closer to understanding how dinosaurs lived, died, and affected the world in which we now live.
Interesting, but not fascinating
It's clear from the beginning of his book that Switek is obsessed with dinosaurs. His passion for the "thunder lizard" began in childhood, and has resulted in a career writing about evolution, paleontology, and natural history.
Switek's passion is dinosaurs — mine, not so much.
It's not that I didn't enjoy My Beloved Brontosaurus. On the contrary, it was interesting to read about some of the bigger-picture discoveries and controversies (turns out most dinosaurs probably had fuzz or even feathers, and they were most likely killed off by a massive asteroid impact, etc.).
But when it comes to the smaller stuff — like keeping up with all the scientific names he uses — I just couldn't get interested. There's too much information for a dinosaur novice like me to take in easily.
If you're a huge dino fan, you'll love Switek's book. If you're not sure of the difference between Apatosaurus and Deinonychus, you might want to invest in a "Dinos for Dummies"-type book to read in tandem.