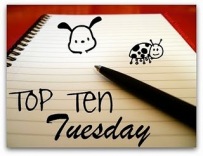 (Top Ten Tuesday is a weekly meme brought to you by The Broke and the Bookish.)
Few things in life make this girl happier than setting goals and achieving them. It's that time of year again, so here are my book-related goals for 2013.
Sort out shelves
I live with with Best Friend, obviously, but I've left tons of books at my childhood home (about four hours away). Next time I'm there I need to go through and decide what can be donated/sold and what needs to come back with me.
This may or may not necessitate the purchase of another bookshelf. Or a bigger apartment.
Get back into Bookpedia
Bookpedia is a program that lets users catalog their personal libraries, keep track of books they've lent out, and create wishlists. I've been using it since 2007, but something happened when I moved from my old desktop to a laptop, and the entire program got lost in the shuffle. I've finally got it re-installed, but my library is gone, so I have to re-catalog everything. Fortunately it's not something that has to happen quickly!
Complete book challenges
My history with challenges is less than stellar, but I'm hoping that my 2013 reading challenges go smoothly. Generally the biggest trouble I have with them is finding the books at my local library. Which brings me to my next goal.
Library FTW!
I never officially declared a book-buying ban, but I'm liking the perks of depending more on libraries — my wallet remains fat and my bookshelves don't collapse under the weight of new books.
This year I'm planning to continue this tradition. I live in a small town, though, and my local library is not as well-stocked as I (or anyone else I know) thinks it should be. I'll likely renew my card a bigger library system in a neighboring county — it's $10/month, which I think is a crime, but as long as I check out enough books per month it will be a good investment.
Investigate PaperBackSwap
I need to check out PaperBackSwap in more detail. If it's a good, cheap way to get the books I want and send off my books to others who want them, I'm all for it.
Rejoin Top Ten Tuesday
This is my first TTT since March of 2012. Memes can get a little stale when you do them for years, so I took a break — but now I'm back and hoping to meet more bookish people.
Bring it on, 2013!