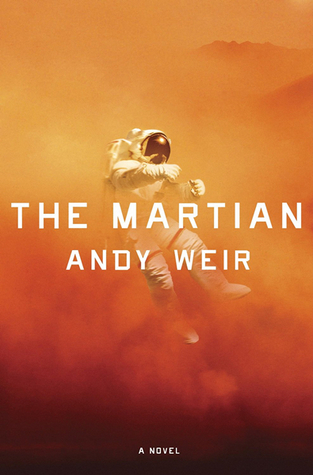 When the Ares 3 crew makes an emergency departure from Mars during a windstorm, they do so without their botanist. Mark Watney is killed on the way to the extraction point.
But after the dust settles on the red planet, Mark is still alive. For now. He has no way to contact his crew or NASA, and it will be over a year before the next manned mission sets down on Mars.
He's not giving up. In fact, he's going to do something amazing: survive alone on an inhospitable planet until help arrives.
Holy mackerel
I'm several years late to the worldwide obsession with The Martian, but I'm officially hooked.
This book was fantastic! Mostly because of the main character. Author Andy Weir makes Mark relatable and human from the word go — which is nice, because if he'd started us off with all the science that the book eventually gets into, I wouldn't have felt so connected.
According to Neil Degrasse Tyson and a bunch of people way smarter than me, the science is pretty damn accurate (except for that one teeny, tiny, no-one-will-ever-notice-it thing). The plausibility of the entire situation makes it that much more exciting and scary.
Ignoring the fact that I'd never be chosen for a mission like this, I definitely wouldn't survive being stranded alone on a planet. I love that one of Mark's main weapons is his humor. At several moments it's the only thing that keeps him from giving up.
The TL;DR is that I loved The Martian. It's so well-written that even though I'd seen the movie, I was still on pins and needles wondering if the Hermes was going to rescue Mark.
And speaking of that inevitable comparison…
Book vs. movie
I'm usually not happy with book-to-movie adaptations; they have to cut so much that it's just not a fair comparison.
I watched the movie The Martian sometime last year. I'd heard good things about the book, of course, but I thought it would be a bit of a "talking head" piece — and if I had to muscle through something like that, I'd rather be watching Matt Damon on a screen than picturing him in my head.
It didn't end up being a talking head piece, and it had far more humor than I was expecting. And it even did some things better than the book. For example, even though Weir's book had more room to flesh out other characters, the film versions felt more three-dimensional. I could see the physical differences between each of them, whereas in the book there's not much description of what people look like.
That said, there's a chilling moment in the book that I really wish had been included in the movie. I won't spoil it — because it's just that awesome — but I will say that it prompted an hour-long conversation with some friends about how one would go about field dressing human remains in space.
No matter how you choose to take in the story of The Martian, I encourage you to do so. The science gets a little heavy for laypeople, but not overwhelmingly so. Check it out!
(I read this book for the Monthly Motif Challenge. March's challenge was to read a book set in a different dimension, a book in which time travel is involved, or a dystopian or science fiction book where reality looks very different than what we're used to.)