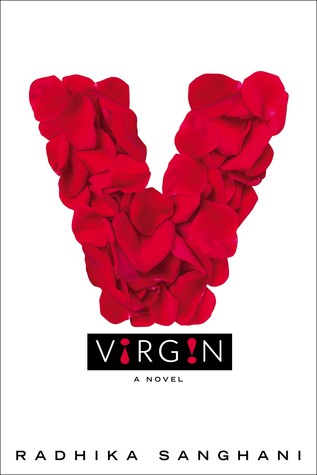 **This review contains adult language and discusses sex and sexuality in frank terms.**
21-year-old Ellie Kolstakis has a secret: she's a V-I-R-G-I-N. And she wants nothing more than to lose her stupid, embarrassing V-card.
The trouble is, Ellie is hopeless when it comes to dating and sex. The one guy she dated in high school laughed at her natural pubic hair, and then there was that unfortunate biting incident.
Enough is enough. Ellie's in her final year of university, and it's time to take the bull by the horns. Time to find a guy — any guy will do — to help her go from V-I-R-G-I-N to…whatever comes next.
I'm so glad this book exists
As someone who held onto her own V-card several years longer than most of the people I knew, I was glad to stumble across Radhika Sanghani's Virgin. Ellie and her friend Emma have the kinds of frank conversations about sex, body hair, periods, and everything else that I wish I could have had at their age.
Ellie undergoes many changes as her story unfolds. She begins her quest with an "Any guy will do" mentality, but soon realizes this might not be quite what she wants. She starts off disavowing commitment, but once she meets someone she likes, her tune changes. And once she finally discards her virgin status…well, you'll have to give it a read to find out.
And yet… (spoiler alert)
I'm glad I read Virgin, but I'm still mulling over whether or not I liked what I interpret to be its final message.
Ellie and Emma start a blog, in which they write candidly about everything from bikini waxes to period sex — it's great stuff, and I think conversations like this should happen in real life as well.
But this book made me feel…uncomfortable. Everyone's individual beliefs about the meaning and value of sex are different, and I just don't take the same view of it as do Ellie and Emma.
Emma is a self-proclaimed "slut," something my Baptist upbringing simply won't allow me to praise. I don't think she's a bad character, and I don't think people who behave the way she does are bad people. Her slut status isn't a millstone around her neck, she's not "punished" with pregnancy or any of the negative side effects of having sex that many characters are. It's written in a positive light, but I didn't really like what I saw.
And then of course there's the issue of Ellie's contracting chlamydia, and her incredibly casual response to it. After a moment of panic, she actually congratulations herself on meeting this additional sexual milestone. It's treated like it's not a big deal to contract an STI from giving a buy you barely know a blow job without a condom. Or as Emma says:
Babe, it's fine. Everyone has chlamydia.
Really, everyone? I understand the importance of having frank conversations about sex, and not talking about STIs like they're "bad people diseases," but there should be a balance. And that's what Virgin seems to be lacking.
I don't think Virgin is a bad book — the fact that it's testing my preconceived notions and has me thinking is a wonderful thing. I just wish Sanghani had brought in another character who could give Ellie and Emma (and the reader) yet another perspective on sex and sexuality.