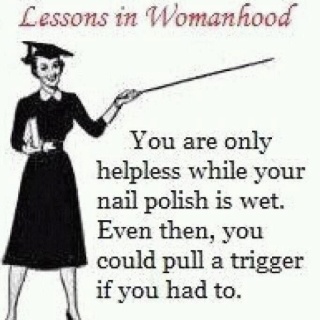 I've collected a lot of advice over the years, thanks to some smart friends and family. Here's some of my favorite gems that I try following on a daily basis.
A woman needs a man like a fish needs a bicycle.
My mother raised me mostly on her own, and always set the perfect example of an independent woman. It wasn't until high school that I heard this exact quote somewhere, but as soon as I did I recognized it as a lesson my mom had been teaching me since childhood.
I've always done my best to remember that it's great to have someone to share your life with, but that it's possible — and important — to remain an independent person.
When someone offers you advice, smile and thank them. Then do what you were going to do regardless.
Advice my dad gave me sometime in high school. We don't always see eye-to-eye, so this is a reminder to hear his advice graciously, but follow my own path if it diverges from his suggestion. Handy in all situations, not just with fathers and daughters who are more alike than either cares to admit.
Less whining, more writing.
My work mantra. My way of powering through writer's block and hesitancy and just write.
If you are the smartest person in the room, then you are in the wrong room.
The day you stop learning and growing is the day you start dying — surround yourself with people who are smarter than you, and learn from them.
You are never too much; you are never not enough.
A tough one to internalize. I always worry that I'm too anxious, too controlling, not a good enough wife, friend, or employee. I'm not saying that I don't want to learn to let go of control, or try being a better wife — but this sentence lets me know that I'm perfectly fine as I am.
The essence of telling a great story is telling about one's failures.
The most recent addition to my list of favorite pieces of advice. I haven't had a chance to put this to use yet, but something tells me it's important to have around, just in case.
Find the good and praise it.
In myself and others.
Do something every day that scares you. If the prospect of doing something intimidates you, it's likely a sign you should do it.
Pretty much every new experience scares or intimidates me, so for the last year or so I've been purposefully trying new things, hoping to get over my own trepidations. It hasn't altered my life in any major way, but at least I'm finding myself a little more open and positive about new experiences.
If you don't like a book, stop reading it.
One of the hardest things for many Bookish people to do — what if you give up just before it gets good?
When I get 50 – 100 pages into a book and I'm just not feeling it, I have to remind myself that there are too many other books out there to waste time on something I'm not enjoying.
As a result of this mental shift I no longer feel obligated to try reading a book I don't think I'll like, or muscle through a book I've started and hate or am bored by. My DNF rate has gone up, but so has my enjoyment of reading. Worth it.
Your turn. What's the best advice you ever got?