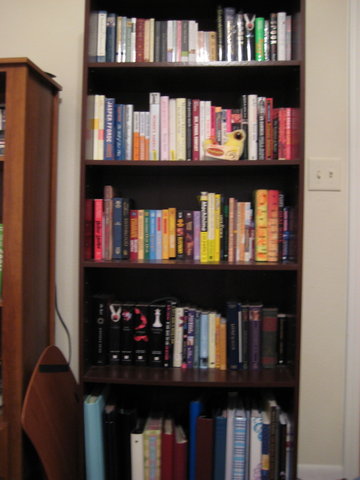 Late last year I ran across an article entitled "How to Achieve a Well Styled Bookcase." The author had some good suggestions, and some even better photos, but the only thing I could think as I read was, "Why not 'style' them with, I dunno, books?"
Growing up, the main decor of my house was books. There was at least one shelf in every room, and they were crammed so full that periodically they broke from their confines and sprouted in little piles on the floor. While I think my mother would have appreciated a prettier and neater home, she probably would have stuck needles in her eyes before getting rid of books so that she could "style" the shelves.
Ask me what kind of person someone is and I'll ask to see their books. "Styling" your shelves may be a way to create "an aesthetically pleasing result," but that's not what shelves are for; they're there to be useful, and to be crammed full of books that showcase your personality better than any artful arrangement of plates and decorative bird cages ever could.
It's almost as bad as an article I read in which a homeowner sealed all his books shut, painted them white, and glued them into shelves he'd also painted white. What's the point?
I couldn't care less if your shelves are arranged prettily — I'd rather see them full of books. "Style" your shelves with books. Small ones, tall ones, chunksters, cheap paperbacks, signed special editions, histories, mysteries, classics, and trash.
Do you "style" your shelves? Am I totally off the mark on hating this trend?