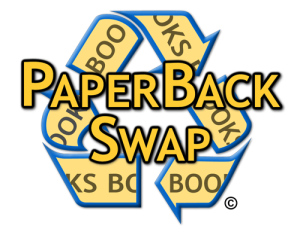 My first review of PaperBack Swap went up in March, just a couple months after I registered on the site. Now it's been another six months, and I wanted to do another review — I hope you find it helpful if you're considering signing up.
Keeping the balance
In my March review I mentioned that I'd be keeping an eye on my ratio of mailed-to-received books: if I noticed that I was constantly sending books but not ever receiving any that I'd requested, I'd close my account and go back to selling my books to Half-Price Books.
PBS tracks all kinds of stats related to your account, including the aforementioned ratio. By the end of this month I'll have 18 books received and 19 books mailed since I opened my account in January. Pretty darn good, all things considered.
Unfortunately the numbers are a little deceptive, as breaking them down shows:
| | | |
| --- | --- | --- |
|  Month | Books Mailed | Books Received |
| January | 6 | 0 |
| February | 1 | 3 |
| March | 6 | 4 |
| April | 0 | 1 |
| May | 5 | 0 |
| June | 0 | 0 |
| July | 1 | 2 |
| August | 0 | 0 |
| September | 0 | 8 |
Things tend to happen in batches — I mail out a bunch of books but get none, or the opposite — which is kind of irritating. I was hoping for a more steady inflow and outflow.
What I like
It's nice to hoard credits for a couple months and then go on a "shopping spree" — you can tell I got a lot of items on my wishlist in September after getting only two books in the previous several months combined.
By combining PBS and my local library, I've managed to avoid spending much money on books.
My wallet is thankful, and so are my shelves. It feels good to pass books on to other readers who want them, so I can make room for others (books, not readers).
What I don't like
Mailing! I upload mostly newer books, so they almost all get requested pretty quickly — and it's annoying when they don't. Printing out address labels, wrapping books, addressing envelopes, and of course visiting the post office is not my idea of a fun afternoon even if I have to only do it once a month or so; but when I get one book request here and one there, running to mail a single package every couple of days is irksome.
The same thing I complained about in March: a lack of selection. I've got 88 books on my wishlist, many of which have been there since January.
Suggestions
Here are a couple things you can do to get the most out of your PaperBack Swap experience.
Set it and forget it – Look up all the books you want and add them to your wishlist — you'll get an email notification when another user posts a copy. The rest of the time you can pretty much ignore it.
Skim your wishlist for duplicates – The site is smart enough to not add two of the same version of a book, but not smart enough to know when you're adding two separate versions. In other words it won't let me add two hardback copies of Pride and Prejudice, but won't catch the duplicate if I add a hardback version and then a paperback one.
Upload books you want to give away in bulk – Particularly if they're newer or in high demand. Chances are they'll get requested in quick succession, and you can save some time by mailing several packages with just one visit to the post office.
Anyone else have experience with PaperBack Swap? Leave your thoughts in the comments!