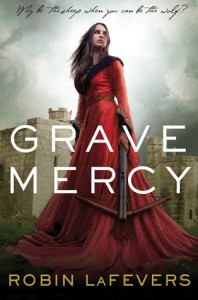 Ismae is a daughter of Mortain, one of death's handmaidens trained since childhood to visit retribution on those her father has marked as traitors. And since it's England in 1485, business is booming.
But when Ismae is sent to the high court of Brittany to spy on Gavriel Duval, she is surprised to discover that the pieces aren't adding up. Is Gavriel a traitor, or is he being framed? The more she digs for the truth, the more complicated it all becomes. And with her faith, her country, and her heart on the line, the last thing Ismae can afford is a mistake.
What a ride!
How awesome was this novel?! It's a mash-up of all the best things: kick-ass heroine(s), adventure, intrigue, danger, and a little romance. The story is nicely paced, with plenty of red herrings and characters you don't quite know whether or not to trust.
The religious themes were surprising and well done. Ismae believes Mortain to be a jealous, vengeful deity, and questions her own loyalty when thoughts of compassion and atonement jump into her head. I loved seeing the wheels in her head turn, trying to answer the same questions many of us have regarding life, death, and God. It's so difficult for her to turn her back on what she's been taught her whole life, but she follows her instincts and does what she knows is right.
Two thumbs up, and looking forward to the next in the series, Dark Triumph, coming sometime in 2013!