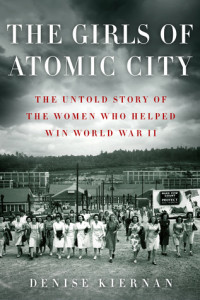 In 1942 a large town known as Oak Ridge sprung up in eastern Tennessee. It didn't appear on any maps, but at the height of World War II was using more electricity than New York City and was home to more than 75,000 people — most of whom didn't even know why they were there.
Many of these people were young women lured there by high wages and the promise that the work they did would help bring an end to the war that was consuming everything. They toggled switches, checked pipes for leaks, and crunched numbers for three years — never knowing that they were helping enrich the uranium and plutonium used in the world's first atomic bombs.
Quite the history lesson
I came into The Girls of Atomic City knowing a little about the Manhattan Project; what I didn't know was how many people — and how many women — were involved in bringing it to life.
Looking back it makes perfect sense. Enriching that much "cake" isn't something that could be done by Oppenheimer and a couple assistants; and with most of the United States' men drafted, who else was left?
From 2009 to 2012, author Denise Kiernan interviewed dozens of women who called Oak Ridge home during World War II. Her book follows nine of these women as they cope with stresses of living in a ramshackle town soaked in mud and not being able to talk to anyone about their job (or even speculate exactly what it is they're even doing), make friends and enjoy a fun — if strange — dating scene, and eventually discover their role in ending the war.
The creators of the Manhattan Project did not build Oak Ridge as a sociological experiment, but that's what it ended up being. The town's citizens may not have lived normal lives, but they dealt with the same problems as everyone else: work-related stress, boredom, poverty, rationing, racism, and fear of what would happen to their loved ones overseas.
The Girls of Atomic City is informative, both about the women who built the bomb and the science and history behind fission. Kiernan's respect for her interview subjects comes through in her writing, and I was glad that she carried their stories past the end of the war.
These women were not widely recognized for their efforts, and the knowledge of their skills and sacrifice is not widely discussed. I recommend this book to anyone who wants to deepen their knowledge of World War II, the Manhattan Project, or the contributions of women during war.