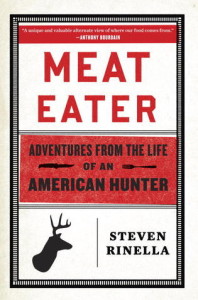 Steven Rinella has been a hunter his entire life: fishing since age three, hunting squirrel since eight, and whitetail hunting starting at age 13. Like many (or perhaps most) hunters, this passion for hunting was instilled by his father, and Rinella feels bound to pass on those lessons to the next generation.
Meat Eater: Adventures from the Life of an American Hunter is part memoir, part love letter to the sport of hunting. He uses his hunting experiences to impart lessons about how hunters shaped early America, the ethics of killing and the responsibility of hunters to their prey, and the ever-increasing disconnect between people and the food they eat.
Bye, bye comfort zone
I'm not a hunter, nor are any of my close family members. I was raised in the city, and the closest I ever came to "circle of life" experiences or conversations was watching those dreadful National Geographic shows where lions kill baby zebras.
However, the web design/marketing company for which I work represents several hunting ranch clients — so in the last couple years I've learned a lot about hunting seasons, the gun vs. bow debate, and seen a lot of pictures of hunters posing proudly with freshly-dispatched animals.
I have zero interest in killing anything myself, but I've spent quite a bit of time wondering what makes other people want to do so. The few glimpses I've seen of hunting culture were intriguing, and Meat Eater seemed likely to give me a better idea of it all.
A culture of tradition and honor
From what I've read in Rinella's book and elsewhere, most hunters hunt for a few reasons:
They enjoy the outdoors
They enjoy providing their families with food they've sourced themselves
They enjoy the challenges of hunting
Most of them hunted as children, with their parent(s) passing on lessons and traditions from their own childhoods. And while some hunters undoubtedly hunt purely for the bragging rights associated with putting a big rack of antlers on their living room wall, many of them are more interested in honoring the animals they harvest.
Rinella fits this picture pretty closely, and his hunting experiences mirror the other accounts I've read. Some hunts go well and some are disasters, but throughout it all Rinella keeps a focus on honorable harvests and a transparent love and respect for the outdoors and the animals he hunts.
Meat Eater was an interesting and enjoyable window into the world of hunters and hunting, and I'd recommend it to anyone who wants to know more about the subject. Rinella is a strong storyteller, and handles what can be a divisive and often bloody subject with aplomb.
Just don't expect me to shoulder a rifle and wander into the Great Outdoors to shoot animals.
(I read this book as part of Non-fiction November. Click the link to see posts from this and previous years!)