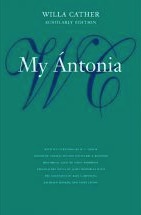 New York lawyer Jim Burden has come a long way from Black Hawk, Nebraska, but he has never forgotten his days on the prairie — or Antonia Shimerda, the immigrant girl who was his first friend. My Antonia is the story of a young man and the situations and people who influenced him most, and how those influences shaped the remainder of his life.
Autobiographical roots
I was surprised to learn that My Antonia is semi-autobiographical. Willa Cather grew up in Nebraska and based her story on the life of Anna Sadilek and amalgamations of the people she knew and situations she experienced. She simply chose to tell the story from a male perspective.
Cather's love of her prairie home is obvious in this and many other of her works; she was influenced by her upbringing just as much as her character Jim Burden was.
(I read the Scholarly Edition of this novel, and I recommend you do, too. It includes original illustrations, essays and historical info that provides a great foundation for the novel itself. University of Nebraska Press, ISBN 0-8032-1468-5.)
A feast for the mind
The novel is by no means a pulse-pounder, but I knew from page one that it would be a story in which I could luxuriate.
…burning summers when the world lies green and billowy beneath the brilliant sky, when one is fairly stifled in vegetation, in the color and smell of strong weeds and heavy harvests; blustery winds with little snow, when the whole country is stripped bare and gray as sheet-iron.
Descriptions like this are everywhere, so preoccupying all your senses that you forgive the novel for feeling a little light on plot and heavy on inner monologue and philosophical nostalgia. It reminds me in many ways of Laura Ingalls Wilder's Little House series, though with more adult plot points (suicide, murder, illegitimate pregnancies, etc.).
Bittersweet and lovely
Cather's novel is about the pioneer spirit, growing up and growing apart, and how we cannot return to — or escape — our past. It's what makes us who we are.
For Antonia and for me, this had been the road of Destiny; had taken us to those early accidents of fortune which predetermined for us all that we can ever be. Now I understood that the same road was to bring us together again. Whatever we had missed, we possessed together the precious, incommunicable past.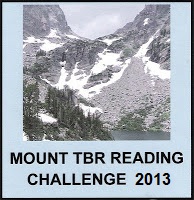 (I read this book as part of The Mount TBR Challenge. Here's to a shorter list!)