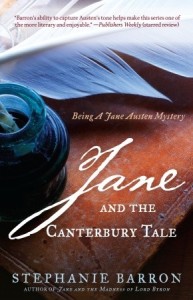 In a case of astounding lack of research I recently managed to read the 11th book in the Jane Austen Mysteries series, in which author Stephanie Barron turns the famous 18th century writer into a great, if reluctant, detective. Fortunately Jane and the Canterbury Tale works pretty well as a standalone, and makes me want to start reading from the beginning.
In this novel the now-experienced-at-solving-crimes Jane is visiting her brother Edward at his estate in Canterbury. While there she attends the second wedding of Adelaide Fiske, whose first marriage ended abruptly several years previously when her less-than-honest first husband died under scandalous circumstances.
It seems that Adelaide will live happily ever after; but when her first husband turns up on Edward's estate—this time dead for real, and murdered besides—it is up to Jane and her brother to solve the crime.
Surprise! I liked it
I went into this one with more than a little trepidation; after despising both Second Impressions and Death Comes to Pemberley, I figured there was little chance I would enjoy Barron's novel — especially since it deals with murder, something Austen herself said she would never write about.
And while I wasn't over the moon about Jane and the Canterbury Tale, I certainly enjoyed it. This is probably because rather than messing with her beloved characters, Barron meddles with Austen's life — and since I don't actually know a whole lot about Austen herself, I'm not mad about someone's monkeying with it.
The one thing I do know about Austen is that she was intelligent, quick-witted, and probably could have solved a mystery or two. And all while poking fun at everyone involved.
Plot and characters
As I mentioned earlier, the novel stands fairly well on its own; the only things that were a little jarring was a lack of explanation of how Jane got into crime solving in the first place, as well as references to her previous cases.
The plot is good, full of twists and red herrings, but of course I love the characters themselves more. Jane is smart and just the tiniest bit sarcastic, and her niece Fanny is a charming combination of mature and naive. George Finch-Hatton (known as "Jupiter" for his stunning good looks) seems at first to be nothing more than a dandy, but surprises both the reader and Jane by being both clever and kind.
Final thoughts
I need to actually "start" the series by getting my hands on book one, Jane and the Unpleasantness at Scargrave Manor. Published in 1996 — what took me so long to find these books?!
Anyone else ever read these? What did you think?