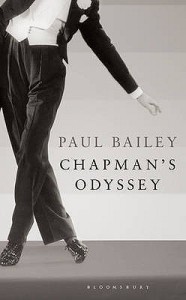 (I read this book as part of the Reading Out of the Box Challenge. This book was in the Opposites Attract category, in which I read a book that's opposite to what I normally grab.)
As 70-something writer Harry Chapman lies in his hospital bed, the voices of the present—doctors, nurses, other patients—are not the only ones he hears. He has conversations with his long-dead mother, a teenaged version of his father, and Fred Astaire (who dances with Queen Céleste of the Babar tales).
Harry does not tell his own story; instead, flashbacks and conversations with ghosts, imaginary friends, and the characters of his favorite books all piece themselves together to showcase an ordinary, but somehow great, life.
Definitely a challenge
This is one of the most complex books I've read this year. The plot itself is simple (elderly man ends up in hospital, is thinking back over his life) — it's the execution that is the real marvel.
Chapman's Odyssey weaves back and forth through time, as well as in and out of reality. One moment Harry is speaking with his doctor, the next he's conversing with his dead father, and the next he's having conversations with Pip from Great Expectations.
The whole novel reminded me of those moments between sleep and wakefulness, when things that are dreamed feel real, and real things feel like hallucinations. It was a journey through Harry's thoughts, and a bit of a puzzle to pieces all those scattered thoughts together.
Harry's life has not been particularly grand or exciting — he grew up poor, became a teacher and writer, fell into an abusive relationship, and is now spending his golden years trying to come to some kind of conclusion. Yet by the end of the novel I really had become quite attached to Harry, with his wry sense of humor and tell-it-like-it-is attitude.
Chapman's Odyssey is not something to read during a hurried lunch break or on a loud subway ride. It's something to take in slowly over a couple weeks, to consider and savor. I hope you take the time to do so.