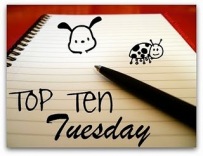 (Top Ten Tuesday is a weekly meme brought to you by The Broke and the Bookish.)
We're well into June, and the unreal heat has got me thinking about heading to the coast—any coast—to enjoy some sea breezes and relaxation. I won't be able to make it out there this year, but in my mind I'm relaxing on the sand with these books.
1. Pilgrims: A Wobegon Romance (Garrison Keillor) – All Margie Krebsbach wants is a fun trip to Rome with her husband, Carl. Things get complicated, though, when a handful of her neighbors decide to come along for the ride.
2. The Grand Sophy (Georgette Heyer) – Pure fun.
3. What the Dog Saw (Malcolm Gladwell) – No vacation is complete without a book that is educational, edifying, and is packed full of interesting tidbits to share over dinner (such as the reasons behind why there's a million mustard flavors, but only one flavor of ketchup).
4. Soulless (Gail Carriger) – A fun, wonderful Steampunk adventure.
5. Big Red Tequila (Rick Riordan) – Just a great mystery novel (and it's the first in a series, so it's perfect if you're on a longer vacation!).
6. The Secret History of the Pink Carnation (Lauren Willig) – Great characters and plot, fun adventures, a little steamy romance…perfect.
7. The Enchanted Forest Chronicles (Patricia C. Wrede) – A quick series of four fantasy novels starring a great heroine and filled with magic, fun, and dragons.
8. The Future of Us (Jay Asher and Carolyn Mackler) – A light read that nevertheless gives some great food for thought.
9. The Phantom Tollbooth (Norton Juster) – Fun reading aloud material for any age vacationer.
Now the only thing to do is sit back and enjoy.